Yet Another Update on the Connected Car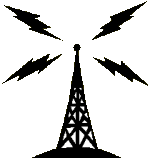 The Wall Street Journal has this article on the kind of innovations we're seeing in the dashboard. Instead of going off the deep end and make it possible to, for example, check your Facebook messages at 100 kph, manufacturers and third-party tech suppliers are working on more practical apps.
Why should radio pay attention? Well, if you're receiving your traffic and weather data dynamically and customized just for you and your location, why would you listen to the radio for that information?
Auto technologists are shifting to helping drivers find a parking spot, the nearest subway entrance or a charging station for their electric car.
The dream, industry executives say, is to create a car that can make driving less stressful by anticipating traffic jams and suggesting alternative routes or locating parking spots in an unfamiliar place.
"All of this can be done," said Rainer Holve, vice president of Elektrobit Automotive GmbH's connected-car team. "The information is out there. It is now all about how can we filter it down and get it into the car."