You know you're on the downside of your music career when you become famous for this
As a member of the shambolic Libertines, Pete Doherty was once one of the UK's talked-about rock stars. The Libertines were revered in some circles, but Pete's reputation as a drunk, a druggie (including crack and heroin). part-time amour of Amy Winehouse and Kate Moss, and all-round carouser were catnip for the British media. And yeah, the Libertines had some pretty good songs and were a major part of the British garage rock revival of the early 2000s.
The Libertines are still together (in theory, anyway) and allegedly have an album release planned for 2020. Meanwhile, though, Pete is working on keeping in the public eye in a different way.
The Dalby Cafe in Cliftonville, Kent,  has one of these gluttonous meal challenges. If you can finish this plate of food in a specified period of time–in this case, 20 minutes–you don't pay.
4 eggs
4 rashers of bacon
4 sausages
A big pile of hash browns (the POTATO type, Pete!)
Onion rings
Two slices of toast
A one-quarter-pound beef burger
French fries
Baked beans
Something called "bubble and squeak" (a mix of potatoes and cabbage)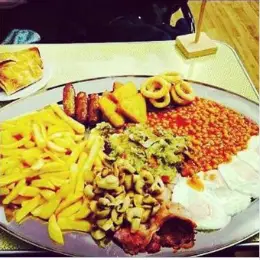 Pete did it in less than 20 minutes. Two-thirds of it was gone in less than seven minutes. Anyone else feel sick? (Via the NME)
Amazing work from #petedoherty smashing the #dalbycafe breakfast – It's been a long time!!!https://t.co/DLOMTzbzVA pic.twitter.com/zCqiUgscp4

— Thanet Extra (@ThanetExtra) August 21, 2018