If You're a Canadian Musician, Then You Probably Need This Book
One of the reasons Canada is able to punch far, far above its weight in the global music market is because our musicians have access to many levels of funding and grants. The biggest of the two, FACTOR and Starmaker, pump millions upon millions of dollars into the careers of Canadian musicians.
But how does one go about getting a piece of that pie? That's tricky because you need to learn how to speak the appropriate bureaucrat-ese. And that for that, you need a Rosetta Stone.
Enter this brand new book.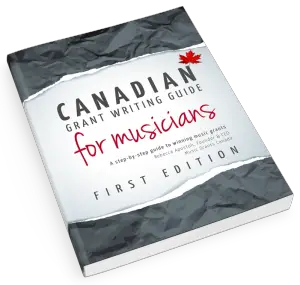 From the press release:
[The book] offers a unique behind-the-scenes perspective on what funding agencies expect and how artists can make themselves stand out from the pack. Along with explaining the basics of how to write an engaging biography and compile an industry-standard marketing plan, the book also provides actual case studies of successful, nationally-funded artists and an industry-sourced list of best practices sure to fast track any application.
As someone who has sat on many a FACTOR jury and looked over dozens and dozens and dozens of applications, I can honestly say that there's a dire need for this book.  Most applicants struggle. Those who do it well know how to get funded again and again and again.
It's not about gaming the system; it's about presenting yourself in a clear, concise manner in the right way to the right people in the right language. This money is there for the taking, but you have to convince the funders that you'll use it properly.
Sounds like a great investment in your career, no? Buy the book here.