If You're a Green Day Fan, You've GOT to Get This New (Old) Record
About 30 years ago, a bunch of kids in the Bay Area formed a group called The Lookouts. Guitarist and singer Larry Livermore would later go on to found Lookout Records, the band that first introduced Green Day to the planet. And on the subject of Green Day, the Lookouts' drummer was a 12 year-old kid named Tre Cool. See?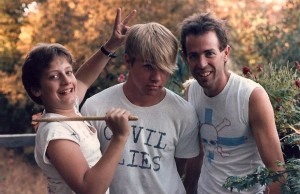 Meanwhile, a kid named Billie Joe Armstrong showed up to play guitar on a couple of songs with his friend Tim Armstrong. Yes, the Operation Ivy/Rancid guy.
Unfortunately for Green Day and Rancid completists, the Lookouts' material–two albums, two EPs and a bunch of stray singles–has been out of print for years. But come March 10, a collection called Spy Rock Rock (And Other Stories) will be released through Don Giovanni records. It features the original album and a selection of other tracks. Here's a taste with a song featuring Billie Joe on guitar.