YouTube is Going to Make Concert Videos Less Vertical
We've all seen it and probably done it: taken video on a smartphone while holding the damn thing in a vertical up-and-down position. That's so wrong. Portrait-shot video looks like crap. The only proper way to shoot video is the landscape (horizontal) position. How many concert videos have been ruined by being shot vertically?
YouTube more than anyone knows that we can't be trusted to run our own cinematography, which is why we're now being given an option to fix the sins of those who get it wrong.  From Android Police:
Vertical videos are terrible for many reasons, but we may have to come to terms with the fact that people just won't stop recording videos vertically. This inescapable foible of humanity is made slightly less galling by a new feature in YouTube 10.28 (which you can grab from APK Mirror). Vertical videos are now displayed properly (i.e. vertically) when made full screen – something we didn't quite notice until today.
The old behavior for a vertical video was to make the video "full screen" by simply displaying it up and down in landscape mode (you couldn't rotate). That makes it barely larger than the non-full screen view. As of the latest version, you will get the vertical video in true full screen with a vertical orientation on your device. You can test it on your phone or tablet with this video.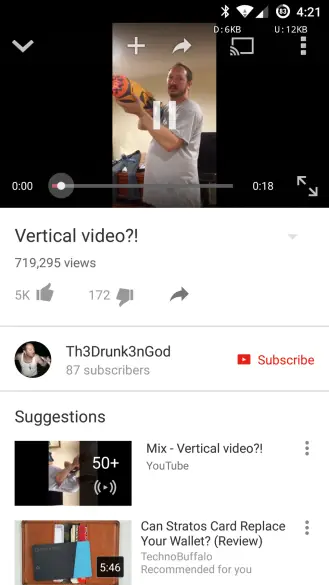 About bloody time. Thank you, YouTube.