Ziggy Marley's Fly Rasta Tour Live on Yahoo!
Throughout the years, Ziggy Marley has built an impressive resume – which helped to keep his dad's flame alive. Ziggy is a six-time Gr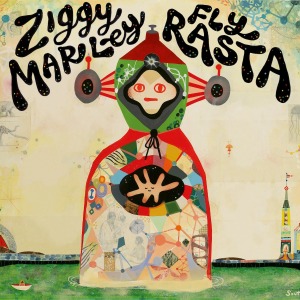 ammy winner, Emmy winner, humanitarian, singer, songwriter and producer.
His fifth and most recent album, Fly Rasta, came out in April 2014. Shortly after, Ziggy embarked on a worldwide tour that, according to him, has enabled him to reconnect with his Rastafarian roots.
"For the past few albums, I haven't spoken about Rasta in that sense," Ziggy explains. "But it is something that is deep within me. It's very common for people to use that word — Rasta this and Rasta that. But I don't use it that much. For me, Fly Rasta is like lifting up the banner again. It's a celebration of my philosophy."
To promote it, Ziggy made dozens of TV appearances across the US and Europe, including performances/interviews on Conan O'Brien, The Late Show with David Letterman, Real Time with Bill Maher, The Queen Latifah Show, The Arsenio Hall Show, and many, many others. Click here if you want to see the video embeds of (almost) every appearance.
And here's a treat for you: Tune in on Yahoo Screen! on Tuesday October  21st to watch the Ziggy Marley play Fly Rasta live. Yahoo! will stream the concert from Ziggy's show in New Orleans, LA—from the House of Blues. After the original stream, it will replay in a loop for 24 hours, so you can go back and watch it again. Spread the word and enjoy the show!