38 years ago today: The Great Toronto Punk Rock Riot
You may have seen the story about the dude who got thrown out of Tuesday's Slayer concert at the Budweiser Stage in Toronto and then tried to swim back in. He's become some kind of viral star.
Don't do this, people. While your love for music is admirable (a) the water is dirty; (b) it's very, very cold; (c) you end up looking like a knobhead.
This sort of thing happens at Ontario Place a couple of times a year, but no contemporary incident has matched what happened on June 2, 1980, when dozens of people tried to breach the water barrier. This has gone down in history as the Great Toronto Punk Rock Riot.
Teenage Head had was booked to play a free show at the old Ontario Place Forum, a beloved yet now defunct amphitheatre with a circular rotating stage. In its day, it was a very popular venue. The fact that it was shaded by big trees and surrounded by water on three sides made it a rather bucolic setting.
The band was doing extremely well with their second album, Frantic City. All local radio stations were playing songs from the record and it looked as if Teenage Head was destined for global greatness.
To maximize exposure, the group's manager decided to amp things up by bussing in fans from all over the region. Part of the thinking was that this would be the show Teenage Head never got to finish as the result of another riot: The infamous Last Pogo two years earlier.
But when the transported fans were added to the people who were already looking forward to the gig, the crowd ended up being too big.
The Forum could only old maybe 5,000 people, but thousands more tried to get in. While the situation devolved in the venue–stage invasions, thrown objects, fights–security closed the gates to Ontario Place. That only encouraged people to jump the fence, adding to the chaos inside. While cops descended, dozens of people hit the water and swam for the Forum.
It was total craziness and made all the papers and all the newscasts thereby exceeding the expectations of Teenage Head's manager. It was the perfect sort of publicity.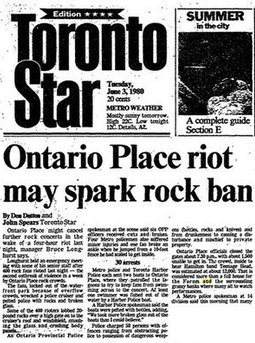 But then just a few months later, one of the bandmembers was injured in a car accident, which required months of recovery and caused the band to miss some crucial showcases in the U.S. All momentum was lost and they never managed to get it back.
Still, Teenage Head has the distinction of being the only Toronto punk band to be at the centre of two riots. That's gotta count for something, right?