An interesting question: Has your taste in music changed during the coronavirus?
We've had a lot more time to ourselves this year because of COVID-19 lockdowns, which may mean that you've been listening to more music to help pass the time. Have you noticed any shifts in your musical tastes?
NuVoodoo Media was wondering about this, so they surveyed nearly 4,000 American radio listeners between the ages of 14 and 54. They broke out their findings across eleven different radio formats. Here's what they found.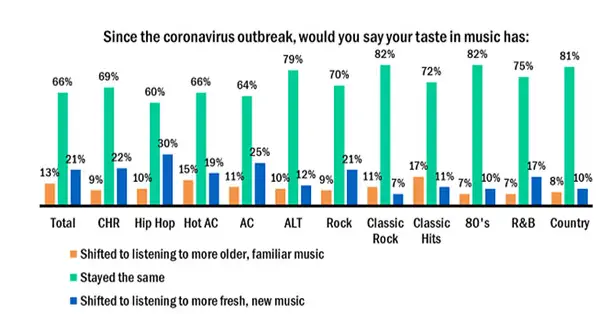 While the majority of music fans have loyally stuck with their favourite genre(s) (especially with the classic music formats), it's interesting to note that 30% of hip-hop fans reported having been on the lookout for fresh new music during the pandemic.
When it comes to alt-rock, only 10% reported digging into their musical comfort food. About 12% went on the hunt for new stuff.