Anyone Else Notice Mastodon Get Killed on Game of Thrones Last Night?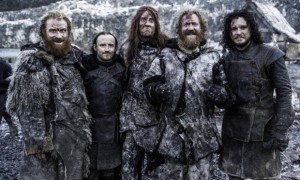 Dan Weiss, the creator of Game of Thrones and the show's executive produced, likes his metal. When he asked Mastodon–one of his favourite bands–if they'd be interested in a cameo on an episode called "Hardhome" (first aired 31 May), they jumped at the chance. They traveled to Belfast for the shoot. I quote from Music-News:
It was such an incredible experience to be on set as extras for our collective favorite show Game Of Thrones and to be wildlings murdered and then brought back to life by White Walkers was beyond amazing. I watched my best friends Brent and Bill, murdered right in front of me as I myself was stabbed in the stomach and had my throat slit multiple times, and I didn't mind at all. It made me love being in Mastodon even more. We are more than privileged and honored to have been a part of one of the greatest stories ever told on film, and the catering wasn't bad either.
If anyone locates any video of their killings, please let me know and I'll post it.
Oh, and in case you missed Mastodon's contribution to  Game of Thrones mixtape: Catch the Throne: The Mixtape Volume 2, go here. (The song is below.)
And can you name other bands who have appeared on the show?  Will Champion of Codplay was killed during the Red Wedding and Sigur Ros showed up once. Both the Hold Steady and The National have recorded songs for the show.