Archie Meets the Ramones. Yes, THAT Archie and THOSE Ramones
Has CBGB moved to Riverdale? Maybe–at least according to what was dropped on the folks at Comic-con in San Diego this weekend.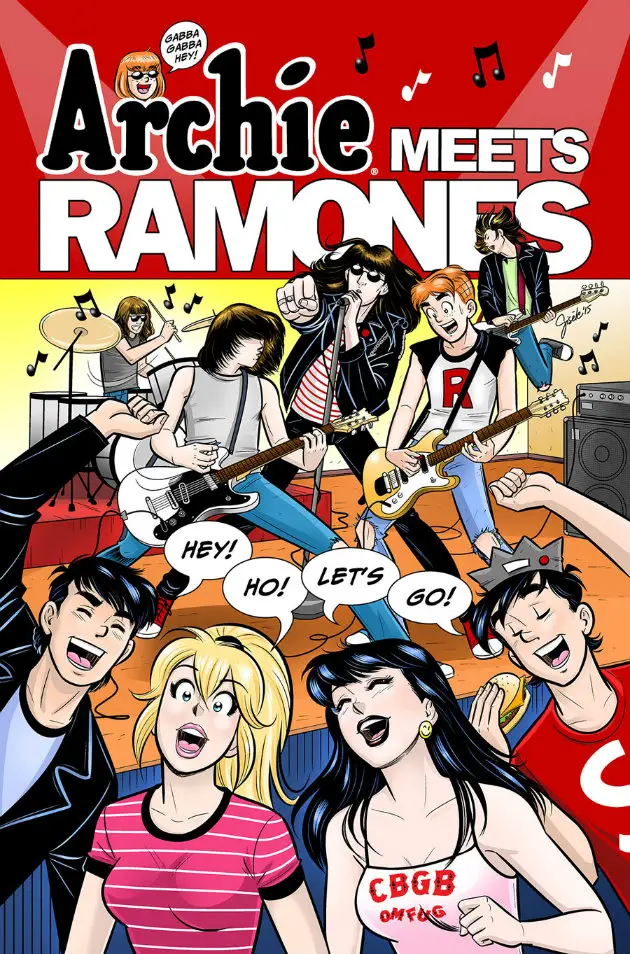 Let me quote from Comic Alliance:
Yes, it's true. In 2016, Riverdale's typical teenagers will be teaming up with New York City's original punks in a musical crossover for the ages. Saturday night at San Diego Comic-Con's "Comics & Pop Music: Making New Noise" panel, writers Alex Segura and Matthew Rosenberg revealed Archie Comics' latest, greatest, rockingest release to date, a special comic that brings together the formerly disparate worlds of CBGB's and Pop's Chocklit Shop in a hyperspeed bubblegum battle of the bands.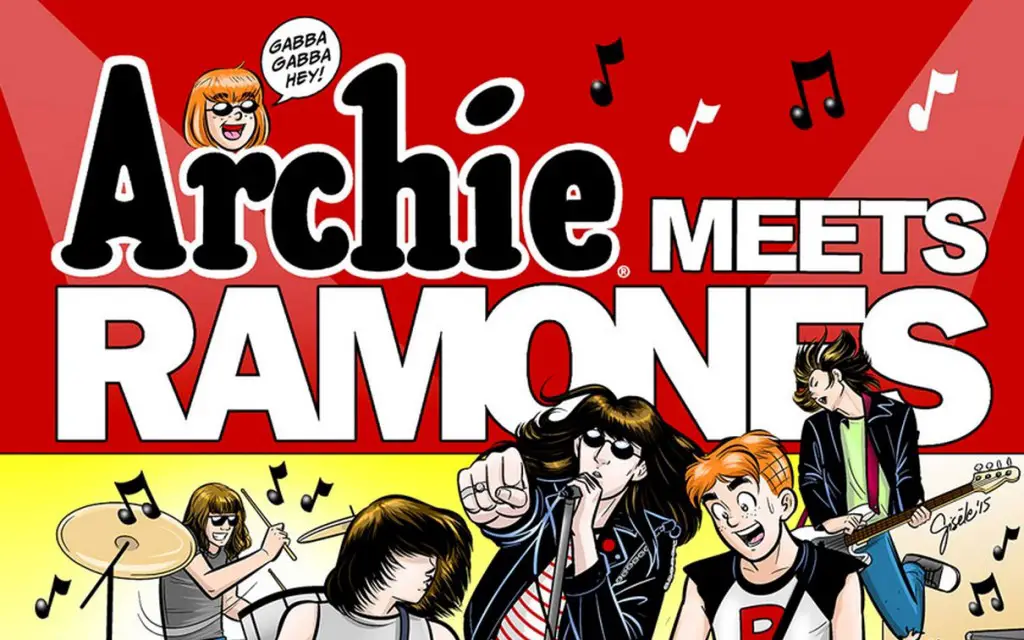 ComicsAlliance is excited to bring you the first piece of art from Archie Meets Ramones, above, and some insight on the project from the creative team of Rosenberg, Segura, and artist Gisele Lagace.
On how the project came to be:
Alex Segura: "Matt got in touch with the Ramones' people, and they were super into it. So I reached out to Gisele, whom I'd worked with before on the "Occupy Riverdale" story and other things. We're all huge Ramones fans, and though it took a while to work out the details, once things started moving, it actually went pretty quick. It's gonna be a super-fun oversized one-shot, with covers by some truly amazing artists (whom I can't announce just yet), and it syncs up nicely because it'll be the 75th Anniversary of Archie, and the 40th Anniversary of the Ramones… It's really kinda like a dream come true to be doing this."
Gisele Lagace: "I draw comics today for a living, but I've also played in bands; many of those punk rock. We'd often cover songs by The Ramones. Getting to draw Archie Meets Ramones has me fangirling in excitement. I will draw with the energy and passion of a Ramone to ensure my beloved Riverdale gets a Rock 'N' Roll High School."
Matthew Rosenberg: "It might seem strange to some people to combine these things, but there's really no divide for me… Archie is what got me into comics, the Ramones are what got me into punk rock, and those two things have always been connected for me. The Ramones are my punk rock heroes, they're really very comic booky, and Archie has a long history of being connected to music, and being willing to try new things and do cool new stuff, so to me, this makes perfect sense."