Bringing Downie's "Secret Path" to Richmond Hill
"The Secret Path," an album by Gord Downie and accompanying illustrated book by Jeff Lemire, remains a powerful look at the life and heartbreaking death of Chanie Wenjack.
A year later, photographer Joel Clements is bringing together Mike Downie, Pearl Wenjack and Strictly Hip singer Jeremy Hoyle for a night of art and music to raise funds for the Downie Wenjack Fund for Reconciliation and the Biindigen Healing & Arts organization.
On Oct. 22, at Richmond Hill Centre for Performing Arts, Clement will host "The Secret Path: Walking Toward Reconciliation," billed as "an evening that will awaken the heart, mind and soul through music, animated illustration, photography and the spoken word."
Last November, Clements was one of the handful of people who ventured out to Kenora to retrace Chanie Wenjack's last steps on the "Secret Path," as he escaped from the Cecilia Jeffrey Indian Residential School and attempted to walk home to his family 600km away. Wearing just a windbreaker, Chanie died on the train tracks; his family wasn't notified of his death until his body returned home a week after he went missing.
The Walk for Wenjack, as it was called, gave Clements the chance to photograph the walk, Chanie's family, the supporters who retraced the steps and the emotional response of all involved.
It's difficult for Clements to talk about some of the photos he took last year, especially one of Chanie's sisters on the tracks. One sister is overcome with emotion and kneels on the track. His voice wavered at the memory.
"I get pulled between respecting privacy and wanting to document something that really communicated everything about the story of Chanie as far as the impact it had on his family," he said.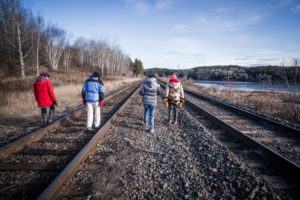 But it also inspired Clements to take his photos and narrate them as a presentation, complete with sound from the walk, to immerse people in Chanie's world. He refers to it as a "spark."
"I really feel like this story needs it to be told and I'd like it to be told in my community," he said. "Even if it's two or three people that experience the same spark, this is what reconciliation is all about – it's about people realizing they need to do something and the journey is figuring out what it is they're going to do about it."
He repeatedly references Gord Downie's call to the nation during the Kingston concert, the finale to the Tragically Hip's Man Machine Poem tour in August 2016. Downie simply said it was time for Canada as a nation to "do something" to move toward true reconciliation. It's very obviously something Clements has taken to heart.
The evening will begin with a territorial acknowledgment, prayer and honour song, followed by a viewing of "The Secret Path," the animated film based on the album and book of the same name, introduced by Mike Downie, Gord's brother.
Hoyle, whose band has been playing The Tragically Hip's songs in the US and Canada for almost as long as the band itself, will then take the stage to sing "The Stranger" from the "Secret Path" album.
Now a Buffalo resident, Hoyle grew up in Ontario and first met Clements after The Strictly Hip played an unofficial birthday party for Gord Downie at Adelaide Hall in February.
The two stayed in touch since. "Joel's Clements' passion is infectious," Hoyle said. "His photos and videos from the Walk for Wenjack had an incredible impact on me. I was nervous when I introduced myself to Joel… I'm in awe of his artistry and spirit. It's an honour that he would include me in this important evening."
He, too, felt compelled by Downie's call to "do something," which Hoyle said has become a "credo" for many Tragically Hip fans.
"As a kid growing up in Canada, I was unaware" of the residential schools, Hoyle said. "I'm still ignorant to the scope and circumstances. It wasn't discussed in schools. It wasn't discussed at all. We need to talk and keep talking. And listening and learning."
Introduced by Pearl Wenjack, Clements' presentation of photos and natural sound recordings, called "The Weight of Your Heart," will follow, allowing the audience to "walk the highway from Kenora to Reddit to the train tracks where (Chanie) managed to make it another 21 kilometers before he succumbed to the cold," he said.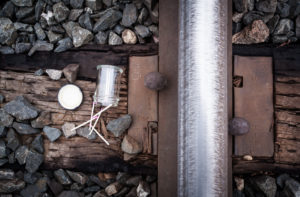 The evening also will feature a panel discussion with Mike Downie, Pearl and Daisy Wenjack and Shirley Williams, professor emeritus from Trent University and a survivor of residential schools herself.
Clements stresses that while both "The Secret Path" and "The Weight of Your Heart" focus on Chanie's experience, the story and heartbreak aren't Chanie's alone.
"This is about thousands of children who were sent to residential schools and the thousands that never went home," he said. "They mattered so little, they were worth so little, the government couldn't even return their bodies. They were just buried in the schoolyard." In some cases, their families weren't notified for months, if ever.
Like Clements, Hoyle believes the publication and release of the "Secret Path" album and movie are a first step on winding and necessary road toward making things right.
"Gord and his brothers have put forth the idea that it will take many generations to right the wrongs of the past," Hoyle said.  "From an cultural and artistic standpoint, I think 'Secret Path' is an important waypost on a long journey of understanding."
Tickets ($25) are still available but selling quickly – Clements said more seats already had to be opened to accommodate interest. It's possible the auditorium and its 650 seats will be filled, something that would make Clements proud. And for those who can't make the event, he's encouraging donations to be made, either online or at the door, to the Downie Wenjack Fund or Biindigen Healing & Arts, which provides support services for indigenous people in the York region.