Bruce Springsteen's '57 Bel Air is Up for Auction
Bruce loves this car, but the time has come to let it go. The '57 Bel Air–the first car he bought and the car in which he came up with the ideas for "Born to Run"–is available for sale on eBay.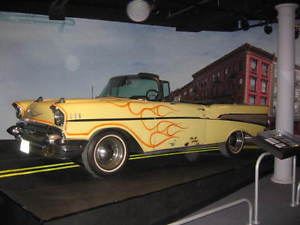 Nice, huh? He bought it for $2,000 on May 21, 1975. When it was on display at the Rock and Roll Hall of Fame, it was appraised for $850,000. The last time I checked, bidding was just over $100,000.
From the eBay description:
Rumors as to the vehicle's whereabouts have perplexed Bruce's fans for the past 7 years.  Articles have been written that the car seemed to vanish from the public eye.  However, the 1957 Chevy Bel Air Convertible has now surfaced once again.  It is now being offered for sale, undoubtedly the most significant if not the only Bruce Springsteen car to be owned privately.
For more on the car, go here.