Demystifying The Hip's "Fifty Mission Cap"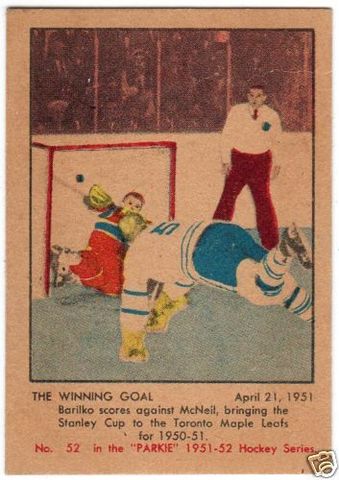 This arrived from Stephen:
"Fifty Mission Cap" by The Hip just played during a break in action of the Chicago/L.A hockey game. My brother messaged me about it and asked "what's that song about anyway?" The reference to Bill Barilko is self explanatory but the interesting part is when the narrator of the song starts telling us about his fifty mission cap.
Many people have figured out that he is referring to uniform caps worn by airmen flying bombing missions during WW2. The leather cap was stiff when it was first issued but took on a unique look after about 50 bombing missions. A worked in cap was a sign of experience and status.
This worn look became something that junior airmen started to do intentionally. They "worked it in to look like that."
So here's something I came across tonight. I often wondered why he kept his hockey card "tucked up under." We'll now I know–and so do you. This is from the Hip Museum:
"But here's the little detail that might be important to part of the song… It was cool to have the sides of your hat all smashed. But it was very uncool to have the front droop down or collapse. As a result, many of these guys put in a piece of cardboard or a playing card on the inside in the front to keep it all going upward.

"So this hockey card (doing a bit of time travel I guess) is worked into the front of the 50 mission cap as a stiffener."