Edmonton is the Mariah Carey Christmas Song Capital of Canada. You Have Our Sympathies.
It's that time of year again when radio stations–mostly of the AC variety–flip from a steady diet of lite pop and ballads to a steady diet of nothing but Christmas music. (Before we go any further, please take a moment to offer sympathy to the people who have to work at these places.)
The all-Christmas-music period runs from approximately November 1 to December 27 and it invariably gives a big ratings boost to the stations who make the switch. When the numbers come out in January–the second month of the traditionally piss-poor second quarter–there can be a significant increase in revenue.
Nielsen BDS, a company that tracks radio airplay, offers up these statistics from last year.
The most-played holiday song in Canada during that period was "Feliz Navidad" by Jose Felicianpo with 5,000 plays.
The top Canadian holiday song was "Christmas Time" by Bryan Adams with 2,500 spins.
The song with the most versions is "Winter Wonderland" with 178. The most popular is the Eurthymics version.
The most-downloaded digital download was "Mariah Carey's" All I Want for Christmas Is You" with 18,000 purchases.
That same song was streamed 5 million times.
But here are the numbers that freaked me out the most.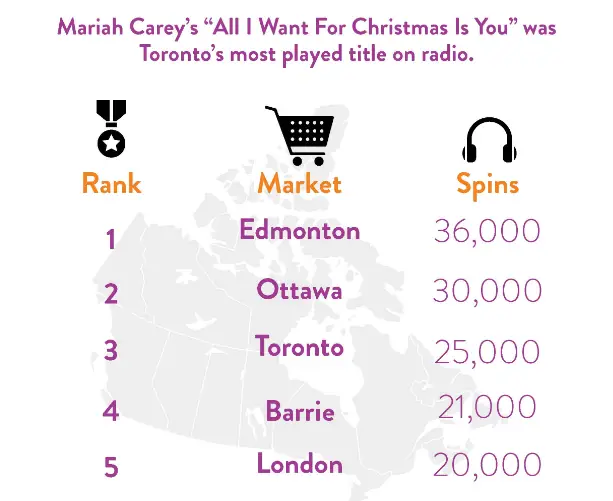 To reiterate, this means the number of spins "All I Want for Christmas Is You" was played on radio that many times between November 1 and December 27, 2015. That's 82,080 minutes. In the case of Edmonton, that if you were to average it out, it means the song was played on some local station every 2 minutes and 17 seconds. For two whole months.
I feel very, very bad for you, Edmonton.  More numbers here.