Explore Canadian Music History Online with New National Music Centre Collection Archive
Calgary's National Music Centre (NMC) has launched a new online platform in celebration of Canada 150, allowing fans to browse their collection of musical history, instruments and memorabilia anytime.
The new website, called NMC Collections Online, is a digital exhibit of the NMC's impressive gallery. The physical museum in Calgary houses over 2,000 historic artifacts and spans over 450 years of Canadian culture and technology. 150 of its entries are immediately available online, and about twice as many are planned by the end of 2017!
It all works pretty much like a virtual museum. You can select a curated category like 'Made in Canada', search for a specific item, or simply browse through. The quickest of scrolls can land you on something interesting, like Neil Peart's impressive "Hockey Night in Canada" Drum Kit, or Elton John's favourite songwriting piano.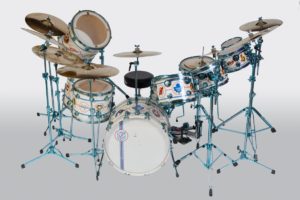 Each entry has subsections so you can learn the item's history, how it works, the cultural significance, and more. And of course, plenty of photos! For example, the entry notes on the CKUA Microphone not only tells its history as one of the microphones used at Canada's first public broadcaster, but also explains the invention of microphone technology.
The National Music Centre hopes its online collection will increase accessibility to its artifacts by a wider audience. In development since 2014, Collections Online aims to fulfill the NMC's "national mandate to be widely seen as a national and international resource for musicians, writers, scholars, collections and museums," says an email statement by NMC director of collections Jesse Moffat.
In addition to its galleries, the NMC is also a resource for music education, live performances, outreach programs, and more. It's all housed in Studio Bell in Calgary's East Village, but if you can't get there you can always check out their website!