Friday Morning Music News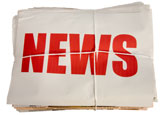 Well, here we are on the cusp of the last long weekend of the summer. It's all about back to school, back to work and registering little Dakota for ballet, tap, gymnastics and all those other indoor activities that run parents ragged and empty the bank account. Me? I played hockey and took accordion lessons. I was told "It's good for you. And if you do well, you can play hockey, too."
Which reminds me: It's time to enroll the Faithful Bull Terrier in wintertime agility classes. Maybe then she'll stop climbing all over the couch.
Let's do some music news, shall we?
Who would have thought Marilyn Manson's career would last so long? I didn't. Hell, I thought he'd have hedonized himself to death by now. Instead, his eighth record will be called Born Villain.
Gallows, the UK band that now features Alexisonfire guitarist Wade McNeil on vocals, have begun writing a new EP. Keep up to date with their Twitter feed.
There's a new movie called Weekender set in the days of acid house in the UK. Set in 1990, it follows a couple of guys who stage warehouse parties in Manchester. Sounds promising.
Lindsay Lohan has a tattoo featuring some Billy Joel lyrics. You're welcome.
Sony has introduced the latest version of the Walkman, the iconic brand name that they managed to successfully squander through neglect and dumb management. And it powered by Android, too.