Further Proof That Dave Grohl Will Work with Anybody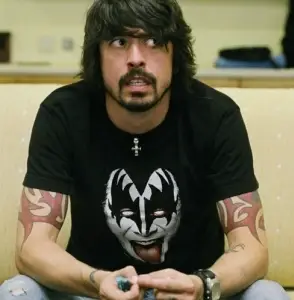 Let's make a quick list of all the people Dave Grohl has appeared/played/recorded with outside of Nirvana and the Foo Fighters.  
I know I'm going to miss something, so please help out:
Them Crooked Vultures:  Self-explanatory
Lemmy:  The Probot project, among others.
Nine Inch Nails:  Drums on several songs on With Teeth
Killing Joke:  Recorded and toured with on drums.
Mike Watt:  Appears on Ball-Hog or Tugboat?
King Diamond:  Probot again
Cronos from Venom:  More Probot
Max Cavalera from Sepultura:  Still more Probot
Tommy Iommi:  Drums and vocals on "Goodbye Lament" from Tommy's 2001 solo album
Tenacious D:  Appeared in the video for "Tribute"
Cat Power:  Helped on the album You Are Free.
Queens of the Stone Age:  Recorded with them on Songs for the Deaf and drummed on subsequent tour.
Garbage:  Vocals on "Bad Boyfriend" on 2005 album Bleed Like Me.
Davie Bowie:  Guitar on "I've Been Waiting for You" on the Heathen album.
Prodigy:  Drums on two songs on Invaders Must Die.
Slash:  Drums on "Watch This" on Slash's solo album.
Cage the Elephant:  Some live gigs subbing in for drummer Jared Champion after he suffered from a burst appendix.
What did I miss?  Right.  Ratt.
Dave's latest plan is to record with two guys from the 80s hair metal band.  I can't even imagine. Meanwhile, enjoy some vintage Ratt.