"Gangnam Style" Perfect for Good Oral Hygiene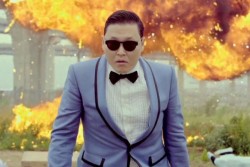 Four out of five dentists (or some other made up statistic) say that "Gangnam Style" is great for teaching children the importance of brushing their teeth.
I wasn't aware of this, but there's a musical formula for teeth brushing deviced by Jim Williams, a songwriter who works at the Brighton Institute of Modern Music. He teamed up with a dental professional to perfect a pattern of beats needed for a good tooth-scrubbing.
This involves brush 35 times on each side of the mouth–seven strokes in five areas. And after analyzing a bunch of songs that fit this pattern, the best match was "Gangnam Style."
How long will it be before we see Psy toothbrushes at Shopper's Drug Mart?
(Via The Daily Mail)