GWAR Gives Us Their Vision for Super Bowl XLIX–And It's Rather Bloody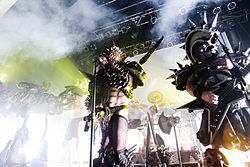 You might have heard that there's a petition to get GWAR to play next year's Super Bowl . Oderus Urungus offered this plan for their performance to the LA Times.
What would a GWAR Super Bowl halftime show be like? First we would have to find it. Once there we — a group of blood-stained intergalactic marauders riding around inside a giant bat — tailgate in the parking lot. You can imagine the bill for parking, which we pay in feces. After copious amounts of baby-kebobs and GWAR Beer we march inside.
But then, surprise! GWAR has no intention of playing the halftime show. GWAR is there for one reason — to KILL. We bum-rush the field during the kickoff and proceed to take on both teams. By the end of the first quarter the field would be a ruin of broken, bleeding bodies and crushed helmets.
And it gets better. Go here.