Happy 35th Birthday, Roland TR-808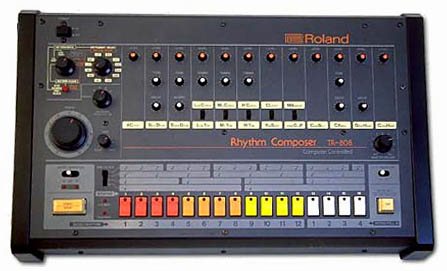 It's rare that a piece of music-related technology can seismically alter the future of composing. But that's exactly what happened when Roland introduced their TR-808 drum machine 35 years ago. The New Yorker takes a look.
Last Friday, a Stradivarius violin that had been stolen in 1980 was returned to family members of the deceased virtuoso Roman Totenberg. It had been made by Antonio Stradivari in 1734, purchased by the Totenberg in 1943, and served as his career instrument before vanishing thirty-five years ago. On Saturday, a different set of classicists commemorated their own thirty-five year milestone: the 1980 arrival of another paragon in musical-instrument construction. They chose the celebration's exact date, 8/08, for the device's numerical name; they sang Roland's TR-808 drum machine. Saturday was 808 Day.
The 808 inspired events in Los Angeles and New York. On Central Park's SummerStage, the South Bronx d.j. and producer Afrika Bambaataa performed his 1983 electro-funk hit "Planet Rock"—the 808 heard round the world. Post-hip-hop neologisms such as "mash-up" and "curator" probably best describe both this song and its creator—an extremely open-minded d.j. whose blend of a Kraftwerk song, a U.K. prog-rock cut, and a Japanese electronic composition was wrought, intensified, and defined by the producer Arthur Baker's emphatic use of the 808. While digital competitors already delivered more authentic snare, cymbal, and bass-drum sounds, an ascendant, more budget-minded coterie embraced the 808 as a primary instrument, effectively creating a new, more potent meaning for the word "drums."
https://youtu.be/hh1AypBaIEk
Planet Rock" began a revolution that is breathlessly narrated by Alex Dunn's new documentary, "808," which describes "a movement in music, headed by the 808." You have to wonder if this movement's members actually considered a piece of audio gear their Dear Leader, but this summary of the 808's impact does foreshadow a sentiment that is common in today's electronic-dance-music scene, whose luminaries, such as David Guetta, credit their genre's innovations to tech upgrades. The introduction of Roland's magic box was indisputably the Big Bang of pop's great age of disruption, from 1983 to 1986. The 808's defiantly inorganic timbres—robot handclaps, turn-signal cowbells, a compressed-air punching snare—sketched out the domain of a new world of music, its effective atlas being the self-titled 1984 début album by Run-D.M.C. While most of the 808's sounds dated instantly, its bass kick had a life of its own. Less a product of engineering than a force of nature, this bass-rolling subsonic boom has come to be what people mean when they refer to "an 808." Similar to the oceanic crescendo that runs through Wagner's Vorspiel to "Das Rheingold," this bass is felt before it's heard, the downbeat swooning to fill a space, tuned to its own harmonic center.