Headphone Safety Awareness? There's an App for That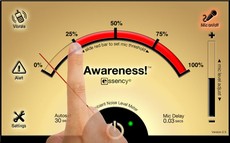 How many times have you had a bad encounter with a doofus who is so immersed in listening to his/her music on headphones to notice what's happening around them? When I see bike couriers wearing ear buds while weaving in and out of rush hour traffic, I'm overcome with an urge to punch them in the throat.
On the other hand, though, I'm guilty of the same thing. You lose yourself in the music and the next thing you know, you're lying under a bus with your big toe in your ear.
This is where Awareness comes in. It's an app that listens to the surrounding enviroment using the microphone on your iPod/iPhone. If there's any sound louder than the music you're listening to, it immediately mixes it in so you hear it. It's like a having an extra ear for safety.
Gizmodo has a review of Awareness as well as several other similar products. Give 'em a look.