Is This Taking the Retro Turntable Movement Too Far?
I remember when Dad brought home the family's first proper stereo.  It was a giant Viking console unit, a hulking piece of wood that weighed as much as a small car and took up almost one entire wall of the living room.
It featured a Gerrard record changer on a massive spring mount (so you could dance and not have the needle skip) with a tone arm that must have weighed 14 pounds. The unit also featured a stupidly sensitive AM/FM tuner that could pick up stations on the other side of the planet.  I have no idea how much power it had–I'm guessing maybe 10 watts a side–and the speakers, hidden behind industrial-strength woven mesh–were full-range things that struggled with all the highs and lows.
I loved that thing.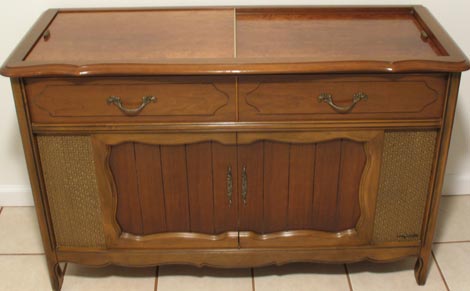 Okay, okay. This isn't the stereo I'm talking about. It's a Magnavox from 1964. But you get the idea.When I got my first job, the second thing I bought (after a CCM 10-speed) was a proper component stereo from my room (Sansui, Akai and some gawdawful speakers).  Eventually, Mom got tired of the behemoth in the living room and ordered it sold.  Dad reluctantly agreed. 
All-in-one systems have come and gone over the decades but the old wood console remained a think of past.  But now you can buy one of these: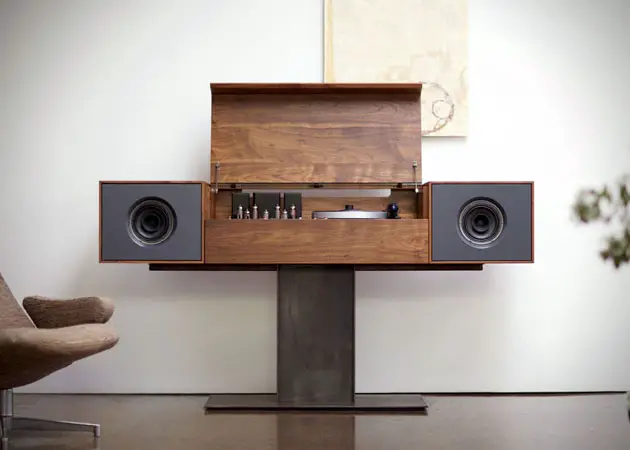 Wanna bet my Dad is interested?
(Via Hi Consumption)