The Absolute Latest on the Death of George Michael, Dead at 53
The latest celebrity death in 2o16 is singer George Michael. He was found dead today (December 25) in bed after apparently dying in his sleep at his home in Goring, Oxfordshire. His publicist says he "died peacefully."
"The family would ask that their privacy be respected at this difficult and emotional time. There will be no further comment at this stage."
Police and ambulance attended the scene at 1:42 pm GMT Christmas Day. His body was found by his current boyfriend, hairdresser Fadi Fawaz.
The Daily Mail quotes him as saying "We were supposed to be going for Christmas lunch. I went round there to wake him up and he was just gone, lying peacefully in bed. We don't know what happened yet."
It's though that he spent Christmas Eve alone or perhaps in the company of his housekeeper.
How did George Michael die? At this point, we're told that his death was due to heart failure (so far unexplained ) and that there were no suspicious circumstances. (I should note that I've heard from a couple of sources that it was suicide. Totally unconfirmed, though, so let's put that aside until we get the official word on his death. He did once confess to having suicidal thoughts, but that was a long, long time ago. Disregard these rumours. However, more rumours have surfaced that it was a heroin OD. Read on for more.)
Thames Valley Police issued this statement:
"Thames Valley Police were called to a property in Goring-on-Thames shortly before 2pm Christmas Day. Sadly, a 53-year-old man was confirmed deceased at the scene. At this stage the death is being treated as unexplained but not suspicious. A post mortem will be undertaken in due course. There will be no further updates from Thames Valley Police until the post mortem has taken place."
There had been no indication that anything was wrong with Michaels. He was working on a tell all-documentary (featuring Mark Ronson, Mary J Blige, Tony Bennett, Liam Gallagher, James Corden and Ricky Gervais; Nile Rodgers was involved in filming something with George two days before he died) and was collaborating with Naughty Boy on some new songs. Plans had been made to spend part of the holidays with friends, including ex-Wham bandmate Shirlie Holliman. He had also rekindled a relationship with American Kenny Goss after being estranged for years. However, when he was last photographed in public back in September, he was said to have appeared to have gained weight and looking "haggard." More stories about his last days keep arriving through the British press. For example, his family is wondering how anyone could let him slip to this level.
Still, things looked much better than they had been in late 2011 when he almost died from pneumonia. It was so bad that doctors at a hospital in Austria performed a tracheotomy. And then there was a mysterious car accident in 2013 when he was suspected of jumping out of a car that was going 70 mph. Whatever really happened, he was left with a five-inch scar on his head.
Michaels was born Georgios Kyriacos Panayiotou on June 23, 1963, in North London to a Greek Cypriot restaurant owner and an English dancer. He eventually got into music, busking on the Tube then forming a ska band called The Executive before founding Wham with bandmate Andrew Ridgely.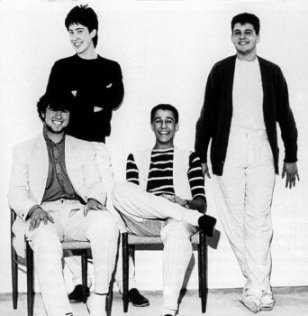 Throughout his career with Wham and as a solo artist, he sold 80 million (some say 100 million) records. In 1985, Wham became the first Western pop act to tour communist China, a huge achievement at the time. Two years later, he embarked on a successful solo career that including a losing court battle against Sony, his record label. It was one of the most high-profile artist-vs-label fights to that point. Still, he was one of the biggest British pop stars of the 80s ad 90s, collaborating with everyone from Elton John to Aretha Franklin. He was also known for being quite generous and performing secret acts of charity.
Michaels became tabloid fodder after coming out during a CNN interview in 1998, around the same time he had an embarrassing encounter with an undercover police officer in a public bathroom in Will Rogers Park in Beverly Hills. (Once out, he became a gay rights advocate.)
As a whole, George Michael's private life was rather turbulent. There were traffic offences that resulted in eight weeks' jail time (for driving under the influence of drugs) and other drug problems that saw him go into rehab. Those drug issues for cannabis addiction saw him disappear from the public eye for much of that last two years. Earlier this year, he claimed to have kicked his 30-year spliff habit. But then there were stories of wild all-night parties in the last few months and a secret heroin addiction, something that had him rushed to hospital with ODs on numerous occasions. And what about the trip to Switzerland in 2014 and 2015 to a rehab centre that charges £190,000 a month for a crack addiction?
Meanwhile, friends and acquaintances keep coming forward with tales of drug problems like smoking 25 joints a day, trying crack (there was an incident in 2008 when he was caught smoking it in a public toilet) and using heroin. (The smack us was always vigorously denied.)
People are remembering some of George's biggest moments, like the time he played the closing ceremonies of the London Olympics, too.
https://youtu.be/KWgSJZ8LFAI
Spotify play of George Michael's songs has blown up since the announcement, increasing by more than 3,000%.
It looks like most of Micahel's £105 million fortune will be left to his celebrity godchildren, including Bluebell, the daugher of Spice Girl Gerri Halliwell.
You can read some reaction here and some statements from his manager here. If you're interested in reviewing Michael's life, the Hollywood Reporter has this look back.