THURSDAY EVENING UPDATE: Let's Bet on How Many Copies Adele's 25 Will Sell In Its First Week
NOTE: I'll be updating this post until the end of this sales week (Thursday night at midnight PT). Check back often because this is a story unlike anything we've ever seen in the music industry.
Adele has arrived to save the music universe. The expectations are…well, as one site puts it, "Biblical."
Her people have no plans to stream her 25 album–at least for now. While some view this is a dumb Luddite idea–"Streaming is the future! Why are you denying it?"–I can kinda understand it. Why stream an album when the damn thing is probably going to break an all-time first-week sales record in America, a record that's been in place since 'NSYC's No Strings Attached 15 years ago?
Adele's label is betting that she has such massive widespread appeal that 25 will get people out of their homes and into record stores. They want nothing to get in the way of that. They'll tolerate iTunes purchases because an album sold that way counts just as much as one sold in a store.
Her label has shipped 3.6 million albums–All physical copies? Not sure, but that's the number floating about.–with expectations of selling at least three-quarters of them in the first seven days. That's somewhere around 2.5 million units at a very fat, very old-school margin relative to digital. If this was your record, would you allow people to listen to it for free? Doesn't make business sense. I'd keep it from streamers for a month, collect the cash from all the Christmas shoppers and then open it up to Spotify et al in the New Year.
Just for fun, here are the biggest first-week sellers of all time by country.
Canada:  Celine Dion, Let's Talk About Love (1997) – 230,212
US:  'NSYNC, No Strings Attached (2000) –  2,415,859
UK: Oasis, Be Here Now (1997) – 763,735
Japan: Hikaru Utada, Distance (2001) – 3,002,720
More massive first-week sales number can be found here.
Meanwhile, anyone want to lay bets on how 25 will sell in Canada, the US and the UK? I think it'll sell around 250,000 in Canada, about 2.6 million in the US and 650,000 in the UK. I have no credible intelligence that leads me to those numbers. Lay your bets…
UPDATE #1: Based on figures that came in Saturday afternoon, here's where things stand.
According to the Official Charts Company in the UK, 25 sold 300,00o in its first 24 hours on sale. In other words, it earned a platinum certification in less than a day. Nice, but still not Oasis numbers. Be Here Now sold 424,000 on day one in 1997.  With a million units shipped to retail in the UK (that's the best estimate anyone has), 600,000-plus is easily attainable.
In the US, Billboard reports first-day iTunes sales of 900,000. Early guesses had the album selling one million digitally and 1.5 million physical copies. That's starting to look pessimistic.
Let's also remember that US Thanksgiving is next Thursday, which leads into the orgy that is Black Friday, the biggest shopping event of the year. Some people are asking "Will 25 be the first album to sell a million copies in its second week?"
Sales tracking in Canada, the US and the UK (and 42 other countries) runs from Friday to Thursday, so 25's first week will end at 11:59 pm November 26. Expect breathless updates from the industry throughout the week.
UPDATE #2: Tracking at US retail Sunday afternoon seems to indicate that 25 sold 1.9 million copies in two days in the US alone.
Further monitoring suggests that 62% of all 25 purchases were wholly digital (1.18 million) and 38% physical releases (722,000).  Of the physical versions, 98% have been on CD with 2% going to vinyl.
Last time I checked, 25 was #1 on 106 of the 119 national iTunes charts around the world. Countries not buying into the hype include Kazakhstan, Honduras and Paraguay.
And weirdly, the album is nowhere to be found on The Pirate Bay. (Yes, it still exists.)
UPDATE #3: The numbers keep adding up–fast.
The album has sold a certified 2.3 million copies in the US alone in just three days. It's pretty safe to say that by the time I typed this, 25 has eclipsed the old record held by *NSYNC (see above). Extrapolating things, the final US number could be around 2.9 million.
Meanwhile, if we look at just "Hello," it sold another 327,000 copies in the US. That brings its four-week total to 2,555,000 paid downloads. Wow.
The album is already the best-selling album in America in 2015. That decision not to stream the album looks pretty savvy, huh?
If you're counting, 25 is the 20th album to sell more than a million copies in a week in the US.
The latest figures (Tuesday morning) indicate that 25 sold 540,000 units in the UK since Friday. That's amazing, but it doesn't touch Oasis' Be Here Now record, which sold 696,000 in three days back in 1997.
UPDATE #4: How sad ballads become blockbusters.
The Guadian has this look at Adele's tearjerkers.
UPDATE #5: Adele credits a lot of her success to Sarah Palin.
UPDATE #6: How can I sing "Hello" in 25 different styles?
UPDATE #8: Say bye bye bye to the *NSYNC record.
As of Tuesday afternoon, 25 has sold 2.433 million copies in the US, breaking the No Strings Attached record (see above). No one thought this would ever be done. Extrapolation remains at 2.9 million is now up to 3 million in America.
UPDATE #9: And the Celine Dion record is in trouble, too.
Sales figures as of Tuesday afternoon put 25 at 216,000 through four days.  Think another 14,213 Canadians will pick up the record before Thursday night?
Just for fun, here's a list of the all-time first-week sales winners in Canada since the Soundscan era began in this country in 1995. (We don't have any reliable figures before that since all sales were based on estimates and record company boasting.)
Celine Dion – Let's Talk About Love – 230,000 – November 1997
Backstreet Boys – Millenium – 191,000 – May 1999
Backstreet Boys – Black And Blue – 156,000 – November 2000
Celine Dion – A New Day Has Come – 152,000 – March 2002
Shania Twain – Up! – 150,000 – November 2002
UPDATE #10: Look at this graph comparing 25 to other big releases as a percentage of that week's sales.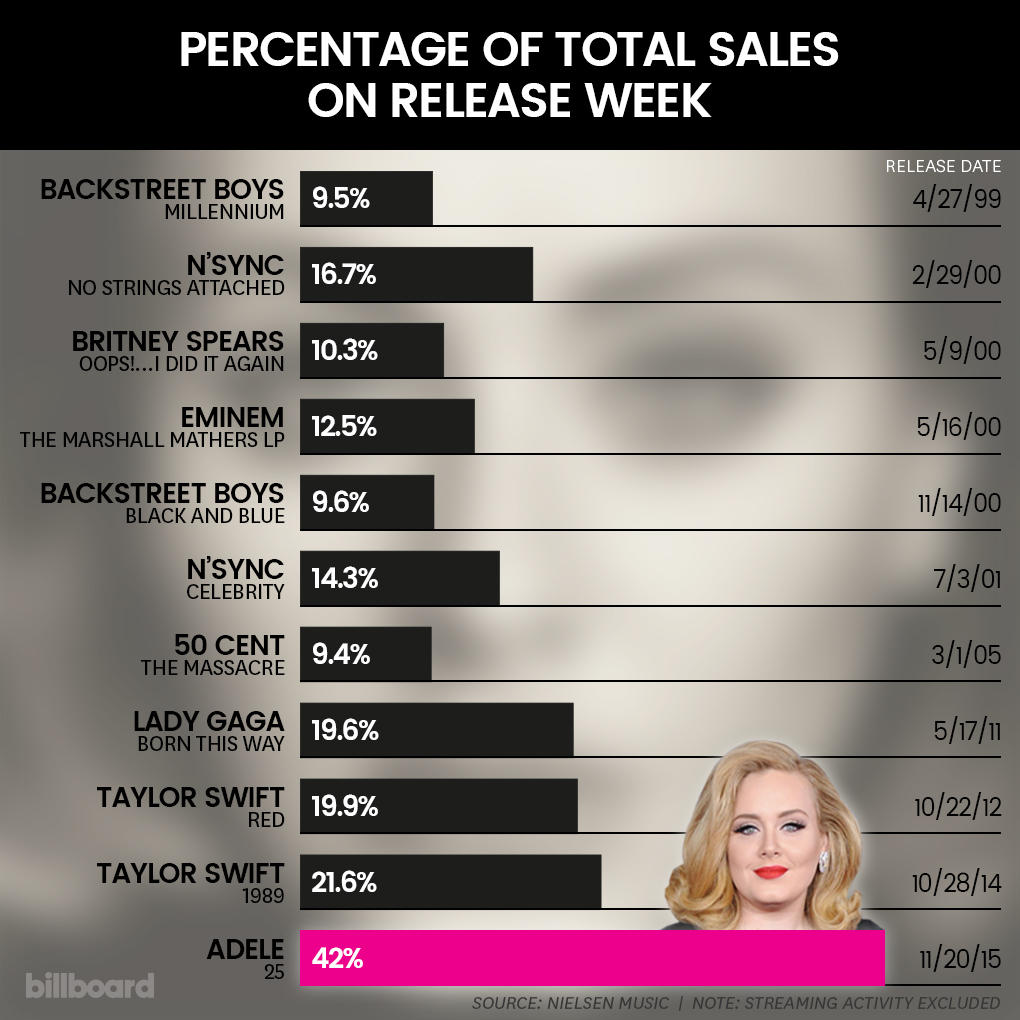 Okay, okay. So her share is bigger because fewer albums are being sold today. Let's then adjust things for the contraction of the music industry since 2000.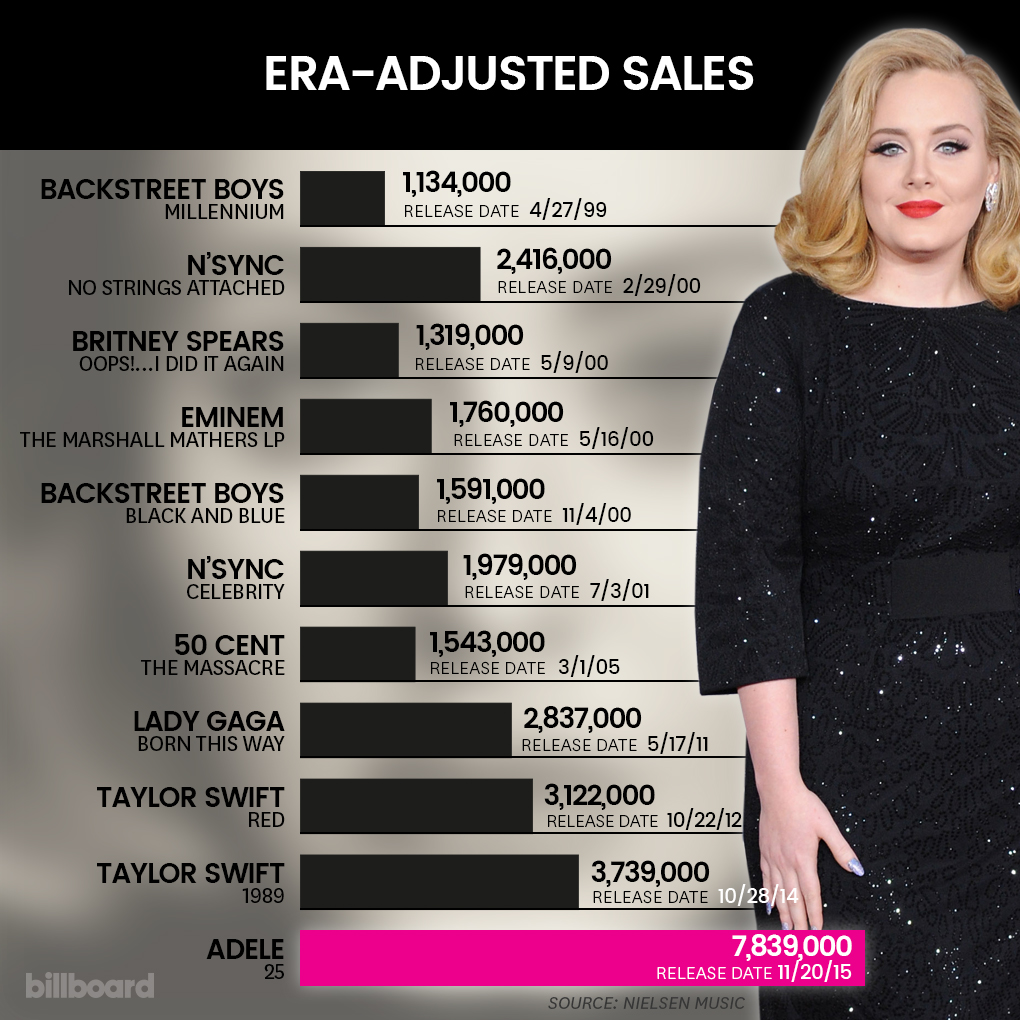 Billboard can put more things into perspective here.
UPDATE #11: With only today and tomorrow to go, how many more albums will 25 sell on its way to an all-time one-week sales record?
The last number I got was 2.56 million copies sold in just four days.The numbers continue to be staggering. The album is selling 27,000 albums every hour. That's 450 a minute or 8 a second.  And that's just in America.
Of those sales, 54% are digital and 46% are physical.
Can 25 reach the 3 million mark in the US? That means selling 440,000 more albums. Maybe, maybe not. Everything depends on how American consumers will shop today (the big travel day) and tomorrow (Thanksgiving day). I'd guess that most sales will be digital–who has time to go to a store to get the CD or vinyl, unless you want to count Amazon–so it is possible. Just. Here's some number-crunching on the subject.
UPDATE #12: What should Adele do with all this fresh money?
"Hello? It's me, your accountant."
UPDATE #13: Well, that's an interesting way to cover "Hello."
https://youtu.be/-yL7VP4-kP4
UPDATE #14: More records broken.
As of Wednesday evening, 25 has the record for the most copies sold in its first week in Canada. Over the course of four days, it has moved 261,000 copies. That eclipses the 230,000 copies of Celine Dion's Let's Talk About Love in 1997–and we still have a couple of days to go.
Meanwhile, US sales are now at 2.8 million (a five-day total). Of that, 1.45 million are digital albums.
Nielsen will spend the weekend processing the data and deliver a final tally for both Canada and the US Sunday night.
UPDATE #15: There goes the Oasis record.
As of Thursday morning, 25 has moved 737,000 copies, which is way more than the previous record held by Oasis' Be Here Now, which sold 696,000 copies in its first week back in 1997. There is an asterisk to this one, though. The Oasis total was a achieved during a shortened sales week which only ran three days. Be Here Now ended up selling 813,000 in its first seven days.
UPDATE #16: Three million. Done.
Estimates out of the US say that 25 has already passed the 3 million mark. And we still have until 12m PT to go before the week's sales figures are closed off.
UPDATE #17: Adele blows away the UK.
If you look at the UK Top 200, 25 sold more than the next 199 records combined.