New U2 Album in 2013. Probably, I'd Say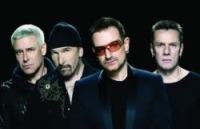 That news comes from manager Paul McGuinness.
First, a summary of all previous rumours.
(1) The band has been working on a record allegedly entitled Songs of Ascent since sometime during the 360 Tour.
(2) U2 is always has pieces of music in various states of construction. It's been said that they're working on three different records concurrently.
(3) No Line on the Horizon was released on February 27, 2009. Next month will mark its fourth anniversary, so a late year release of a new record would fall in line with U2's album cycle.
Finally, the quote from McGuinness: "2012 has been very busy. There's always activity, so certainly expect a new record."
If there's an album, there will have to be a tour. What could they possibly have in mind after what they did last time?
Finally, think about this: Would U2 go on the road at the same time as the Rolling Stones? The timing of everything will be most interesting.