Numismatists can't figure out why the Cook Islands are doing this with AC/DC
Further to yesterday's news about The Royal Australian Mint releasing a couple of commemorative AC/DC coins comes word that the Cook Islands area also getting into this game. For reasons no one really understands, the Cook Island (find them northeast of New Zealand) has decided to issue a 10-dollar AC/DC coin based on the band's 2008's Black Ice album.
Er, okay. This is hardly AC/DC's best work, but fine.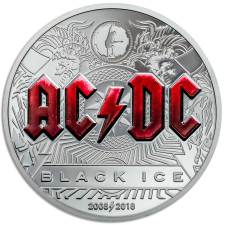 Coin collectors (known as numismatists) will be most interested in this issue since only 999 coins will be minted. Compare that to the 30,000 5 cent coins and 10,000 5 dollar coins that Australia has planned.