Quick: How Many Different Genres of Popular Music Are There? No. You're Wrong.
In the beginning, there was rock, pop, country and R&B. Okay, so there was also jazz, folk and spiritual–and if you want to throw your net a little wider, you could include big band, Dixieland, ska and hillbilly. But those are just wide umbrella terms. A guy named Glenn McDonald created something called Every Noise at Once, which identifies 1,264 micro-genres of popular music.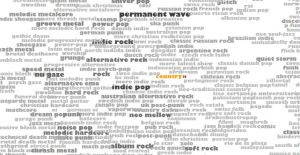 Writing in The Guardian, Rob Fitzpatrick explores some of the genres that frankly I've never, ever heard of. Blackgaze? Deep filthstep? Skweee [sic]? Charred death? Laboratorio?
(Via Boing Boing)