Smashing Pumpkins Reissues Now Available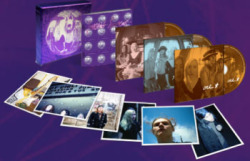 As of this morning, The Smashing Pumpkins Record Club is offering reissues of Gish and Siamese Dream along with a series of bonus tracks. The reissues aren't free, but if you're a fan, you'll want them just the same.
"All orders of Gish and/or Siamese Dream include an instant download of the four tracks that have been previously available only through the Smashing Pumpkins Record Club (SPRC) – the 8-track demo of "Drown," "Suicide Kiss Geek" (no vox), "Barb Wire" and "Rhinoceros Version 2," plus one new exclusive.
As a little bonus for purchasing these from the SPRC directly, we have found another little buried treasure for you. Enjoy the "Frail and Bedazzled Instrumental" — This is a Billy Corgan home demo from back in the day!"