It's Summer. Why Not Try a Music Festival in Another Part of the World?
Glastonbury, the world's most famous music festival, sells out more than eight months in advance, even without any idea of who will be playing. But there are plenty of other festivals around the planet to which you might want to travel.
This simple interactive tool from a British outfit called Netflights allows you to check out what's upcoming on a global scale. It also enables you to easily work out your preferences on what you want when it comes to a festival experience, including flights, accommodation, and ticket prices, as well as overall budget too.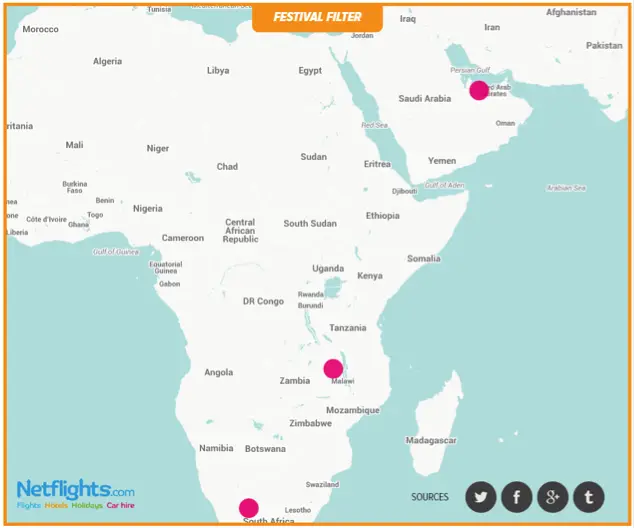 The tool is based on a world map. All you have to do is click on a location and read the description. There is a large selection across a wide range of budgets and music genres, so click around the map to find something that suits you. Whether you like to be up on your feet and dancing or chilling out to some smoother beats by a beach, there is a choice you will love.
Use the "Festival Filter" to also filter your preferences with both music genre and budget (£500-£1300 or about $940-$2,500 CAD), so you can combine the music you love with what you can afford.

For example, in July, you could travel to the Fuji Rock Festival in Japan. Experience a stunning setting against a backdrop of forests and streams as you watch sets from James Blake, Beck, and the Red Hot Chilli Peppers, amongst others.
This is just one example of the many festivals you can experience around the world. Every continent is featured, so as well as music, great food and new friendships; you can also do some sightseeing in an amazing location and tick a country off the bucketlist at the same time. You may have missed out on Glastonbury this year, but a whole 12 months of festival going awaits.
Furthermore, the tool is evolving! It will start to bring in smaller and more niche festivals from all over the world, so let us know you suggestions for additions.
Click here to use the interactive festival tool and most importantly, enjoy the new experiences that await!