There's a Sitcom Based on the Life of Rivers Cuomo. The Leading Man Does Not Look Like Rivers Cumo.
On my my favourite shows on TV is Episodes, the story of a British husband-and-wife writing team who are brought to Hollywood to adopt their BBC series for American television. Instead of it being true to the original premise of a crusty old headmaster at a private boys' school, the US network turns it into a comedy about a boys' hockey team coached by Matt LeBlanc. The compromises the writers have to make are staggering (and very, very funny. You need to watch this show. Trust me.)
Which brings me to this new TV project.
Here's the Rivers we all know and love.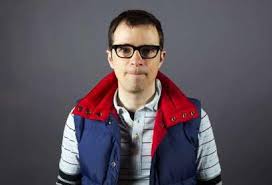 Rivers, as we all know, has led an interesting and colourful life. I've tackled his career many times on The Ongoing History of New Music. Perhaps executives of Fox caught on those shows because last year they green-lit a pilot called Detour, which is based on the time when Rivers left Weezer to go to Harvard.
Great, right?  But here's the guy they cast in Rivers' role: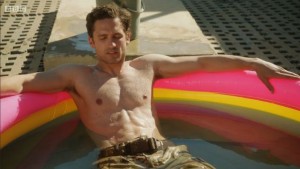 That is Ben Aldridge, a Brtisih actor who will play Michael Sturges, who is described as "charming rock star who made the unexpected choice at age 30 to quit his band and go back to college." Also on the show will be Joey Morgan who plays the "brilliant but socially anxious/awkward college roommate."
Um, which character is supposed to be based on Rivers?  Oh, right: the guy with the six pack.
Like I said, binge-watch Episodes. It'll probably set you up for this disaster.