There's been a breakthrough in the war between Soundgarden and Vicky Cornell
The three surviving members of Soundgarden and Vicky Cornell, widow of Chris, have not been getting along at all. At issue is not just the vocal demos Chris left behind–raw material for one more album with the band–but the future of Soundgarden itself. There have been allegations flying back and forth as well as suits and countersuits.
Today, though, a breakthrough. Vicky has agreed to give the keys to Soundgarden's social media accounts back to the band.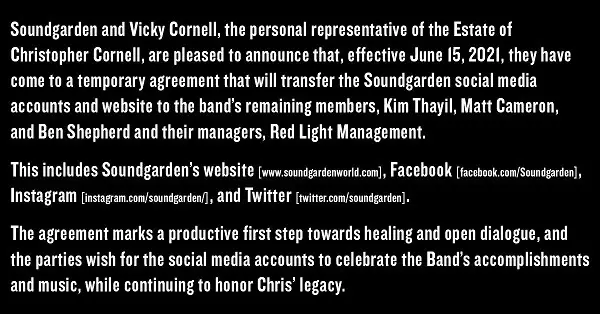 If you can't make it out, it reads:
"Soundgarden and Vicky Cornell, the personal representative of the Estate of Christopher Cornell, are pleased to announce that, effective June 15, 2021, they have come to a temporary agreement that will transfer the Soundgarden social media accounts and website to the band's remaining members, Kim Thayil, Matt Cameron, and Ben Shepherd and their managers, Red Light Management. This includes Soundgarden's website [https://www.soundgardenworld.com], Facebook [https://www.facebook.com/Soundgarden], Instagram [https://www.instagram.com/soundgarden/], and Twitter [https://twitter.com/soundgarden]. The agreement marks a productive first step towards healing and open dialogue, and the parties wish for the social media accounts to celebrate the Band's accomplishments and music while continuing to honor Chris' legacy."
Good. Let's see if this breaks the logjam.