This is the world's most rock'n'roll peanut butter. Wait–what?
The pandemic is causing severe financial stress for musicians and music venues. In fact, a report from the UK says that the music industry could be cut in half by COVID-19.
Time for a brand of peanut butter to come to the rescue.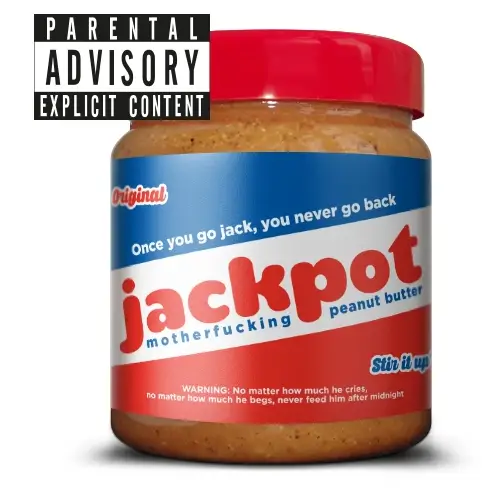 This actual peanut butter evolved from a fictional brand used for t-shirts. But then the company's founder thought, "Why not make some REAL peanut butter that we can use to help struggling music venues?" And here we are. I quote:
"Our social mission is to grow and strengthen grassroots music culture by supporting The Music Venue Trust. Environmentally we are pioneering a new closed loop re-usable packaging concept, designing out waste in the process. jackpot is a launch brand for the first ever LOOP platform in the UK by TerraCycle, in partnership with Tesco.
"By buying a pot of jackpot, you are also supporting your local music venue…A donation from sales of our peanut butter will be made to The Music Venue Trust; a UK Registered Charity that acts to protect, secure, and improve UK Grassroots Music Venues.
"MVT is a UK registered charity which acts to protect, secure and improve Grassroots Music Venues. Patrons include: Sir Paul McCartney, Steve Lamacq, Billy Bragg, Kerry McCarthy MP, Lord Tim Clement Jones, Nigel Adams MP, Jason Iley (CEO-Chairman Sony Music), endorse and support UK music culture."
The Music Venue Trust Mission:
We work to gain recognition of the essential role these venues fulfill, not only for artist development but also for the cultural and music industries, the economy, and local communities. We aim to preserve and improve venues, making them more efficient and improving the experience for performers and audiences. Long-term we plan to acquire the freeholds of as many of these vital venues as possible.
You can buy an individual jar for £5.00 plus shipping here. You can even arrange a subscription to have jars sent your way on a regular basis. Makes a great Christmas gift.