Tuesday Morning News Round-up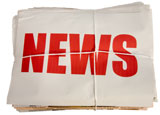 I didn't sleep well again last night. This time, it was the dog. I don't know what my wife fed her, but she was extremely gaseous–an it's-so-bad-the-smell-blisters-the-tongue" gaseous. I think I may be suffering from some sort of poison inhalation this morning.
If you see some typos in the following post, I'm going to use lethal dog farts as my excuse.
After more than a year of hemming-and-hawing, Slipknot has decided that yes, they'll push on without the late Paul Gray. In fact, there will be a US tour–next year.
Sebastian Bach lost his home to Hurricane Irene after a reservoir overflowed and sent a bridge into his house, knocking the whole thing off its foundations. The structure has been condemned.
Yes, Tupac is still dead. However, we now know what became of his ashes.
In a band? Here are the top three ways to know if you're getting ripped off by a club.
Apple is getting closer to unleashing iCloud.
Lady Gaga is now being accused of ripping off Annie Lennox. (Duh. First thing I thought of. Anyone else remember the 1984 Grammy Awards?)