Using Big Data to Discover the Next Big Pop Star
I received a note about the upcoming Juno Awards this week that parsed streaming data into predictions who might win.
With Canadian artists dominating the U.S. charts, the JUNO Awards, Canada's most important night in music, will have more than enough talent to keep the competition lively.
 Nielsen music data shows that five homegrown artists—Justin Bieber, The Weeknd, Drake, Yoan, and Jean Leloup—all had albums among the 10 best-sellers in Canada in 2015; this is the highest share of local talent since 2006. These musicians, as well as teen favorite and Canadian Shawn Mendes, also did well on charts around the world, and a strong case can be made for each coming away a big winner from the show on April 3.
 So who has the inside track to take home the evening's top trophies? Based on nominations, The Weeknd has certainly earned it. The R&B phenomenon has the most nods in the major categories (six), including Fan Choice, Single of the Year and Album of the Year.
 Data from the Nielsen 2015 Canada Music Year-End Report shows The Weeknd had four of the top 10 most streamed songs performed by a Canadian artist; he also had the top two digital songs in 2015 by Canadian artist ("Can't Feel My Face" and "The Hills").
This success maps to larger Canadian music consumption trends, Nielsen data shows. R&B and rap had a big 2015, posting the largest sales increases of any genres compared with 2014 (rap was up 23%; R&B was up 9%). Moreover, in the second half of 2015 on-demand digital streaming in Canada jumped by 114% compared with the second half of 2014. According to previous Nielsen research, young Canadians are driving the digital shift, with these young consumers spending twice as much time streaming music as the general Canadian population.
 While The Weeknd clearly tapped into the spirit of times and had a breakout year in 2015, he still faces stiff competition at the JUNO Awards from fellow nominees who also had an impressive year.
 Justin Bieber had the top selling album in 2015 of any Canadian artist and came in second overall to Adele. In fact, Justin Bieber has sold 1.57 million albums release to date in Canada. The Biebs also had the most streamed song of 2015—"What Do You Mean?" which is nominated for Single of the Year—and is the most streamed JUNO-nominated artist, with 242 million streams release to date.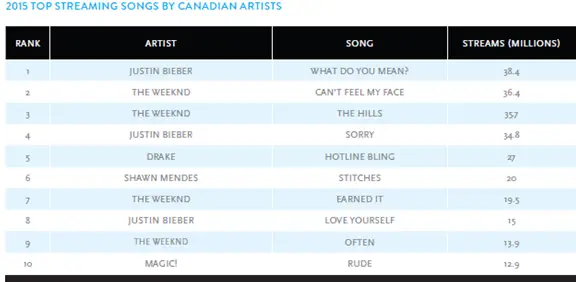 Will these streaming numbers translate into Juno wins? We'll see, won't we?
Meanwhile, statistic wonks are going deeper and deeper in the petabytes of data that flow from users of streaming music services. Could that Big Data provide clues as to the identity of the next big pop star? FastCompany takes a look.
As an 11-year-old living in Ogden, Utah, Sammy Brue wasn't expecting much when he uploaded some demos to ReverbNation, a site that helps unsigned musicians showcase their tunes on customized web pages, build an audience, and submit music to radio stations and record labels. But three years later, Brue's career is taking off: The singer-songwriter has signed to prominent music-management company Red Light and is being courted by big labels—all directly due to ReverbNation's new data-driven incubation program, Connect.
When it launched in 2006, the site set out to be a social network and do-it-yourself platform for musicians in the same vein as Myspace, helping artists steer their own careers. Now-famous musicians such as Alabama Shakes, Imagine Dragons, and Kacey Musgraves hosted music on the site early in their careers. Though many artists have since gravitated toward newer sites such as Bandcamp and SoundCloud to share their music, ReverbNation remains a big player, hosting pages for around 4 million artists; some 200,000 new songs are uploaded each month. That's a lot of noise, but it's also a big asset. Beneath ReverbNation's interface flows a river of data on up-and-coming artists that, the company came to realize, could be highly valuable—for musicians like Brue, for ReverbNation, and for the beleaguered music business.