What Bands Should Reunite?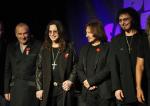 I received an email from Greggory the other night with this link to a story opining on what bands should consider reuniting in light of whatever Black Sabbath and Van Halen are planning to do.
Looking at the list, I kept thinking "There's gotta be a better wishlist than this."
White Stripes: Too soon. Besides, Jack is doing far more on his own–and many more interesting things–than he ever did with Meg.
LCD Soundsystem: Again, too soon. Unshackled from this project, I'm confident that James Murphy will find new and exciting things to do.
Oasis: Inevitable. It'll happen. Give it time.
Rage Against the Machine: They still play gigs together although they have no plans to record any new music.
Nine Inch Nails: Pointless. Trent Reznor IS Nine Inch Nails. As long as Trent is around, who cares under which name he records?
So who I would like like to see back together?
Guns 'N Roses: The Appetite line-up with Steve and Matt on drums. Both of them.
I Mother Earth: Great post-grunge Canadian band with some serious chops. But the moment has probably past. Best let things live on in memories instead.
The Jam: It'll never happen, but I never got a chance to see them back in the day. For me, Paul? Please?
New Order: Get over whatever is pissing you guys off with each other and get back together one more time.
Smashing Pumpkins: PROPER Pumpkins with Jimmy and James. It would be cool to see D'Arcy as part of the lineup, but I have a thing for Melissa.
Any other suggestions? Just please, please don't say the Smiths. It's best to let that legend live as-is.