What Does Your T-Shirt Say About You?
This is for people who believe that rock music is bad for you.  There used to be a company called iSwag.com which did business-to-business work.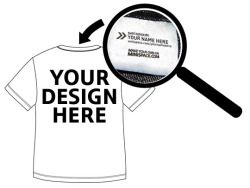 About ten years ago, they conducted a study of teenagers to find who wears what when it comes to music t-shirts.  They determined that kids who wore Britney Spears t-shirts were three times more likely to go to summer school than kids who wore Limp Bizkit t-shirts.  
Eighty-one percent of teenagers who wore Eminem stuff say they keep their parents' curfew compared to 34% of those who like Christina Aguilera shirts.  
And lemme throw in one more:  kids who
wore South Park
stuff were more likely to experiment with ecstasy than those who wore shirts featuring Disney characters.