5.1 audio? Phht. Anyone interested in a 13.2 home theatre?
First, we had mono. The first stereo systems came along in the 1950s. There was a dalliance with quadrophonic sound in the 70s before we moved into home theatre set-ups in the 1990s.
If you have a home theatre, you probably have a 5.1 system, which means a total of six speakers: a centre channel, left and right front, left and right rear and a subwoofer (that's the ".1" of the equation. There's also a chance that you may have a 6.1 system, which involves a centre channel in the rear. If you've upgraded to 7.1, you have a 5.1 system with two side speakers added. There's also a set-up called 7.2.2, which adds in a rear centre channel speaker and a second subwoofer.
But it's time to throw everything out again. Denon has just introduced the 8500H, which is the world's first 13.2 AV amp. This is…complicated.
The 8500H can be set up as a 7.2.6 system (the "6" refers to two rows of speakers in the ceiling), 9.2.4 (nine speakers surrounding you, two subwoofers and four speakers in the ceiling). The 13.2 configuration is used for multi-zone setups through the house.
If you think wiring this monster is a nightmare, you're right. Just look at the back panel.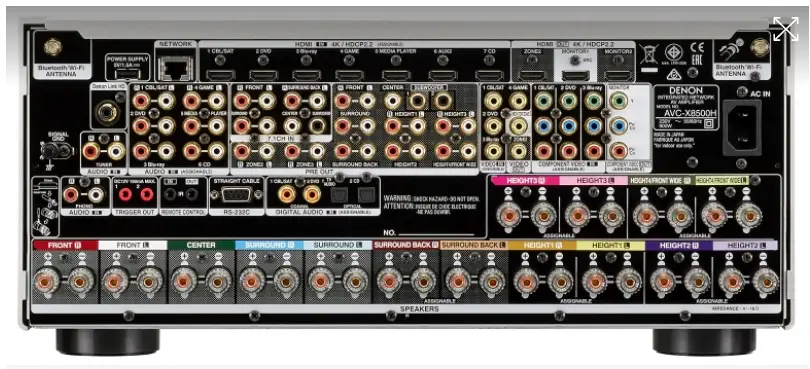 Learn more about the Denon 8500H here.