UPDATED WITH MORE DETAILS AND AUDIO: 50 unreleased Rolling Stones tracks have suddenly appeared online. Why? And how?
Over the weekend, 50 unreleased Rolling Stones songs stretching back over almost 60 years appeared online. No one seems to know where they came from, either.
The collection goes by the name Fully Finished Studio Outtakes and the songs are spread out over three CDs. The tracks include material with founder Brian Jones back in the 60s, tracks with Mick Taylor in the 70s, and stuff recorded with Ronnie Wood. The audio quality is astounding, too. Any of the songs is release-ready.
There are some theories about what's going on. First, it was a hacker attack on some online repository of Stones material. Second (and much more likely), this was a leak of some sort by an insider. And third, this is secret pre-emptive leak by the rightsholder(s) of these songs in an effort to extend copyright of what were formerly unreleased bootlegs.
One of the most fascinating songs is a version of "It's Only Rock 'N' Roll" featuring Ronnie Wood before he joined the band along with David Bowie. Both Ronnie and Bowie were erased from the final release–Bowie because of some weird contractual conflicts.
Some of the songs are brand new to even veteran Stonesologists: "Hands Off," "Curtis Meets Smokey," "Troubles A-Coming," "20 Nil" and "Every Time I Break Her Heart."
It appears that 500 factory-fresh CDs were pressed and are selling for £50. I'm guessing that they're already gone.
No official response from The Stones yet.
UPDATE: A few of the tracks arrived in the digital version of an unmarked paper bag overnight and they do sound terrific. Here's the artwork.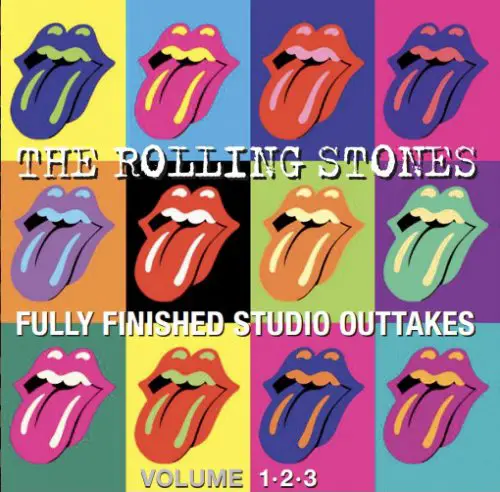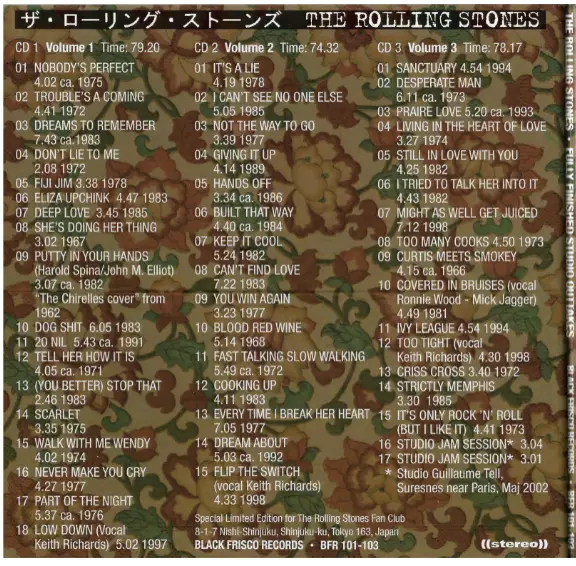 Note that the fine print credits this to Black Frisco Records (BFR 101-103) and that it was created for the Rolling Stones Fan Club.
And if you want a listen, go here while you can.