So What Did Apple Announce Today? Quite a Lot, Actually.
Apple broke in the brand new Steve Jobs Theatre at the new spaceship-shaped campus today by busting out some new products and announcements.
Apple Watch Series 3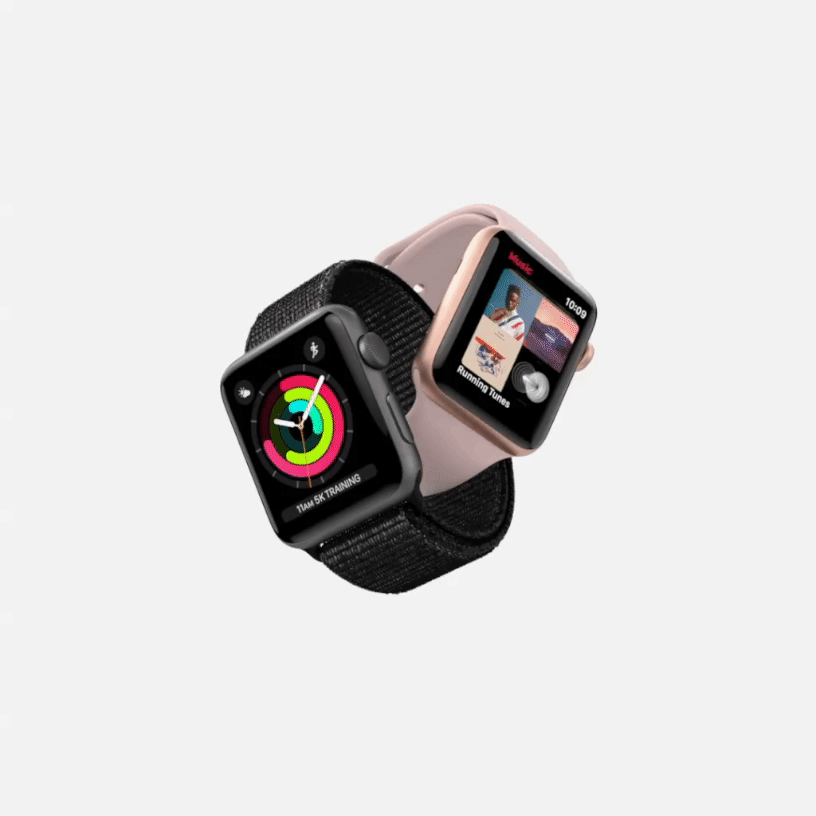 The new version of "the best-selling watch in the world" will contain cellular functions, meaning that you won't have to bring your iPhone along with you everywhere. Want to stream music from Apple Music (and presumably other companies) while working out? No problem. Based on the Apple demo, the call quality audio from the new watch is pretty good. The bad news for some Canadians is that Series 3 cellular will only work with Bell and Telus. Rogers wasn't mentioned. That leaves me out.
The new series also includes some enhanced health monitoring features, something that could be important to people like heart issues. It'll also include coaching tips if you use Watch for working out.
Watch OS4 will be available for download September 19.
Apple TV
Yep, it'll be upgraded to 4K. There will also be a lot of new apps available on the platform, including live sports, live news and games. They were a little light on details, so we'll have to stay tuned–pun intended, I guess.
iPhone 8 and 8s
It took about an hour for the presentation to get around to the iPhone, which began with the 8 and 8 Plus (notice at Apple jumped right over the 7S designation.) With a new chip (the A11 Bionic), a Retina display, a better GPU, tougher glass, an upgraded camera (with some crazy processing capabilities; the video looks sick!); AR abilities (which can be extended to gaming), wireless charging (using a widely used standard) and louder speakers, Apple is making a compelling argument for upgrading. Oh, and the physical home button remains. Capacity will be 64GB or 256 GB. Pre-ordering Friday and availability begins September 11 with the starting price of $699.
Pre-ordering Friday and availability begins September 11 with the starting price of $699 US for the iPhone 8 and $799 for the 8 Plus.
iPhone X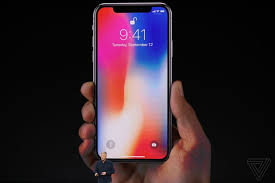 Tim Cook introduced this phone by saying "one more thing" for the first time in forever–and before you ask, it's pronounced it "iPhone 10."
Damn, it looks nice. Glass on front and back that's slightly curved. Stainless steel. Space grey and silver. The edge-to-edge 5.7″ Super Retina Display OLED screen with 458 PPI. Two more hours of battery life. Wireless charging (I'm gonna love the new wireless charging pad–AirPower is due next year–for travelling because it also charges Watch and AirPods. No more bringing a million cords and chargers on the road. And which auto manufacturer will be the first to include one in the cockpit?) Tap anywhere on the screen to wake it up. The home button is gone. To go home, you swipe up from the bottom.
Okay, so if there's no home button, what about unlocking the phone? A new facial recognition feature called Face ID. If it's your phone, just look at it and it'll turn on using a ton of sensors embedded in a wedge of black at the top of the screen which taps into something Apple calls a "neural engine." It basically does a 3D scan of your head you first set it up. And no, you can't spoof it with a photograph or confuse it with a new hairdo or a hat. Apple claims that Face ID there's only a 1 in 1,000,000 chance that a random person will be able to unlock your iPhone X by looking at it. That's up from 1 in 50,000 with Fingerprint ID. Face ID will also allow you to create animated emojis ("animojis") which will probably sell a million phones alone. You can even assume the identity of the poop emoji–which will talk in your voice.
So how much?
In the US, the starting price is $999 (64GB). Start ordering October 27 with shipping coming November 3. Canadian pricing TBD.
iOS11
Upgrades to the next version will be available September 19.