Can you take the 30-day song challenge?
Unless you're in Sweden, you're gonna be staying home for at least another Monday. That gives you time–a LOT of time–do indulge in other things.
Kevin told me about the 30-Day Song Challenge, a thing that's been circulating in some corners of the Facebook universe.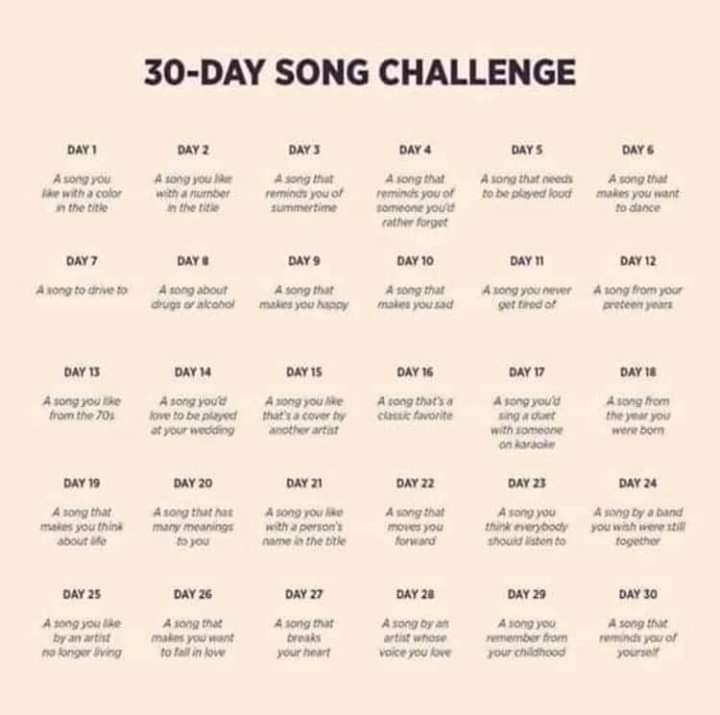 That's a little tough to read, so here's what it say over the 30 days of the challenge.
A song…
…you like with a colour in the title
…you like with a number in the title
…that reminds you of summertime
…that reminds you of someone you'd rather forget
…that needs to be played loud
…that makes you want to dance
…to drive to
…about drugs or alcohol
…that makes you happy
…that makes you sad
…you never get tired of
…from your preteen years
…you like from the 70s
…you'd love to be played at your wedding
…you like that's a cover by another artist
…that's a classic favourite
…you'd sing a duet with someone on karaoke
…from the year you were born
…that makes you think about life
…that has many meanings to you
…you like with a person's name in the title
…a song that moves you forward
…a song you think everybody should listen to
…a song by a band you wish were still together
…you like by an artist no longer living
…that makes you want to fall in love
…that breaks your heart
…a song by an artist whose voice you love
…a song you remember from your childhoo
…a song that reminds me of yourself