The Changing Nature of What Song Lyrics are Okay for Radio
I remember exactly where I was the first time I heard Rough Trade's "High School Confidential." I was driving in my '79 Firebird eastbound on Portage Avenue right in front of the A&W across from Polo Park. It was mid-afternoon on a weekday–a Monday, I think. The station was CFRW-AM.
She's a cool blonde scheming bitch
She makes my body twitch
Walking down the corridor
Whoa. "Bitch" on the radio! But a few minutes later…
What's the principal doin' with her?
Who's that guy, is he screwing with her?
What's her perfume? Tigress by Fabergé
It makes me cream my jeans
When she's coming my way
Cre-What did she say? I almost drove off the road.
Such sexual lyrics are still moderately shocking when heard today. Imagine the effect they had back in 1980.  "High School Confidential" was light-years away from the copy of Johnny Cash's At San Quentin album which was released in the summer of 1969.
He said, "Now you just fought one hell of a fight 
And I know you hate me, and you got the right 
To kill me now, and I wouldn't blame you if you do. 
But ya ought to thank me, before I die, 
For the gravel in ya guts and the spit in ya eye 
Cause I'm the son of a bitch that named you 'Sue'."
On the vinyl, "the son of a bitch" is actually bleeped out.
I guess the label figured that the general public needed to be protected from a bad word uttered by a singer in front of a bunch of prisoners at a maximum security institution.
When it comes to lyrics, the line for what is and is not acceptable for radio airplay has always been shifting. An excellent lesson comes from George Carlin which actually has its roots in a controversy surrounding a radio broadcast on a station called WBAI-FM in New York City.
This brings me to a study by The Omnivore, which–I'll let them take it from here.
[W]e examined several categories of the types of language used in each pool of lyrics per decade, including profanity and sexualization, expressions of love, and pet names. In the name of science, we looked at the use of the words fuck, bitch, ass, damn, shit, hell, sex, butt, booty, pussy, hips, and hot in song lyrics since 1960.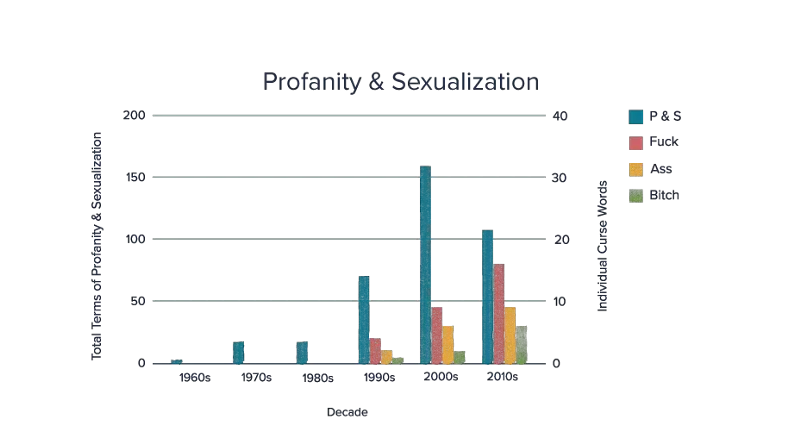 There is a clear trend upward in the use of these words, save a small dip in the 1980s (thanks, Reagan), and while the 2000s hold the largest quantity (159), the 2010s (107) still have three more years to catch up.
We can also see the steady increase in the use of curse words like bitch, ass, and fuck, thanks mostly to hip hop's continuing success, suggesting that such terms are becoming more commonplace and possibly even acceptable for listeners. The Canadian Broadcasting Standards Council recently announced that the use of the word "fuck" on French-language broadcasts was no longer taboo. Perhaps the U.S. is next.
Looking at the evolution of terms of sexualization, we first see the use of "sexy" appear in the 1970s on songs like Johnnie Taylor's "Disco Lady" and Rod Stewart's "Do Ya Think I'm Sexy?"
This gets even more interesting. Keep reading.