FIGHT! Who Had the Best Music: Gen X or Gen Y?
If you lived through it, you'll remember 1994 as one of the greatest years in rock/alt-music. Yes, Kurt killed himself, but there was still some good grunge to come (Soundgarden's Superunknown, more Pearl Jam and Alice in Chains). The punk revival was just starting (Green Day's Dookie, Offspring's Smash)  and industrial music (cf. The Downward Spiral from Nine In Nails) was kicking all kinds of ass. Meanwhile across the Atlantic, Britpop (Blur, Oasis, Elastica, et al) was preparing to explode.  And let's not forget that Lollapalooza was at its peak.
Twenty years on, Gen X is looking back at 1994 with fond nostalgia. If they're not careful, they find themselves saying exactly the same things older folk were saying about '94's music, i.e. "You call this crap music? It was so much better in the [insert decade here]!"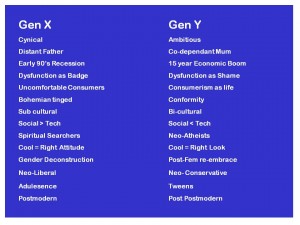 Meanwhile, Gen Y–the people whom Gen X claim will spoiled their party by embracing late 90s/early 00's pop (Spice Girls, Britney N Sync, Backstreet Boys) before their road to Damascus conversion to indie rock–will insist that their music was far superior to whatever their older kin were listening to. Lest we forget that ten years ago–2004–music was also pretty solid.  Alt-rock especially was on the uptick, ready to peak in 2005:  Coldplay, White Stripes, U2, Audioslave–you remember, right?
This Salon article lays down a gauntlet:  "For Generation Y, music is just what you listen to. For Xers, it defines who we are."
Ooo.  I smell a fight and comment war.  Have at it!