UPDATE: Last Gord Downie fundraiser sells out
Good news, everyone! Well, unless you were interested in buying a white or brown leather keychain made from a remnant of one of Gord Downie's suits from the Fully Completely tour in 2015.
While this website was , uh, temporarily indisposed, Rob Ferreira confirmed some very happy news — the guitar-shaped keychains have sold out.
" An incredible fundraiser. Almost $25K raised," he confirmed. "Most importantly, with all the the remnant leather from (the Man Machine Poem suit keychains) and (these), $100K was raised for Gord's Brain Cancer Fund" at Sunnybrook Health Sciences Center.
Congrats to both the fundraiser's organizers and the lucky people who picked up the keychains.
Original post: It was a friend of a friend who introduced Izzy Camilleri to Gord Downie.
Downie had decided, for the first time ever, to have a custom-made suit for the 2015 Fully and Completely 25th anniversary tour. But the tour was set to launch in few weeks and he wasn't sure the suits he liked, made in Japan, would fit his 6'2" frame well without needing alterations before hitting the road.
Camilleri's name came up and information was exchanged.
If that name sounds familiar, it should: She would work closely with Downie on the vibrant metallic leather suits he wore during the Hip's Man Machine Poem tour in 2016 when we sang our farewells (even if we didn't really know it at the time).
Back in late 2014, Camilleri worked with Downie on a series of four leather suits, which he wore during that anniversary tour. There was a black leather suit to start the shows, followed by a pinstripe fabric; a white leather suit made sense for the bright summer months, and a brown leather suit would wind down the tour in fall 2015.
Something unusual happened when the suits were completed, however. For the first time ever Camilleri kept the remnants of the leather she used to create the suits. Normally she'd donate them or provide them to other artists.
In fact, the black leather remnants she gave away. But she held on to the white and brown leather pieces.
Working with Rob Ferreira of the FamilyBand Concert series, and previously Courage for Gord, Camilleri designed a new keychain, stamped with the word "Courage" in a font that closely matches Downie's handwriting.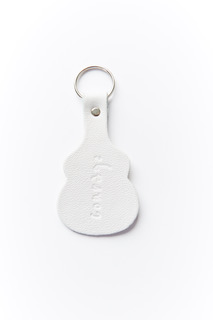 A total of 316 keychains were made – 158 in white, 158 in brown – and are being provided as a token of appreciation to people who make a $100 contribution via FamilyBand to the Gord Downie Fund for Brain Cancer Research at Sunnybrook Health Sciences Center, the same facility where Downie was treated for brain cancer before his death in 2017.
The price is a little higher than the previous keychains Camilleri and Ferreira sold as fundraisers earlier, but there's a good reason for it: So far, the other keychains – featuring pieces and remnants of the seven brightly coloured metallic leather suits worn during the Man Machine Poem tour – raised more than $75,000 toward brain cancer research. Their goal this time around? To raise more than $30,000 and cross the $100,000 threshold.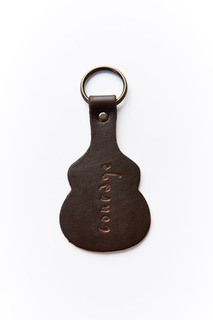 The keychains were teased in the Hip fan forum page on Facebook last week and were made available Sunday afternoon around 5 p.m. By 7 p.m. Monday evening, 153 keychains were sold, leaving 163 left to purchase.
"We've raised more than $16,000 in 24 hours," Ferrier said. "When they first went on sale, the website was like ding! Ding! Dingdingding! It was crazy."
For those who might not be able to afford the $100 price tag, they're also offering a $25 raffle ticket for the chance to win a keychain. Those tickets will be sold for a few days after the keychains have been claimed.
Each keychain comes with a tag signed and numbered by Camilleri, who also notes that the key rings and rivets on the chains match those used in Downie's suits: the white leather keychains have silver rings and rivets and the brown keychains have antiqued gold ones, just like the bindings and fasteners on the suits four years ago.
All proceeds from the keychains will again go to Sunnybrook.
"I really wanted to make this one as impactful, financially, as possible," she said. "That's why the price is what it is. It's a little more than the ones we did previously, but I have nothing left. I have no more remnants that I personally can put together based on the work I did with him."
So if you missed out on the previous keychains – black leather with the brightly coloured metallic pieces or the ones made fully from the remnants of those suits – now's your chance to pick up a piece of Hip history.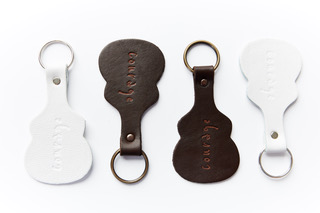 By the way, the FamilyBand concert series WILL be back for more good times this summer. Details on that are here, but we'll bringing you more information soon.