Here's a quick preview of Ottawa Bluesfest 2022. Tickets still available!
[After a hiatus induced by COVID, Ottawa Bluesfest starts next week. Correspondent Ross MacDonald has this preview. And yes, there are still tickets available including for the Rage Against the Machine performance. – AC]
The summer music festival season is fast approaching and one of Canada's biggest is Ottawa Bluesfest running from 7-17 July (dark on Monday 11 July). Despite the name, the festival showcases artists across all genres of music, and this year's edition is very favourable to fans of alt-rock and indie music including Rage Against the Machine, Alexisonfire, Sum 41, Garbage, The Tea Party, Wide Mouth Mason, and many more.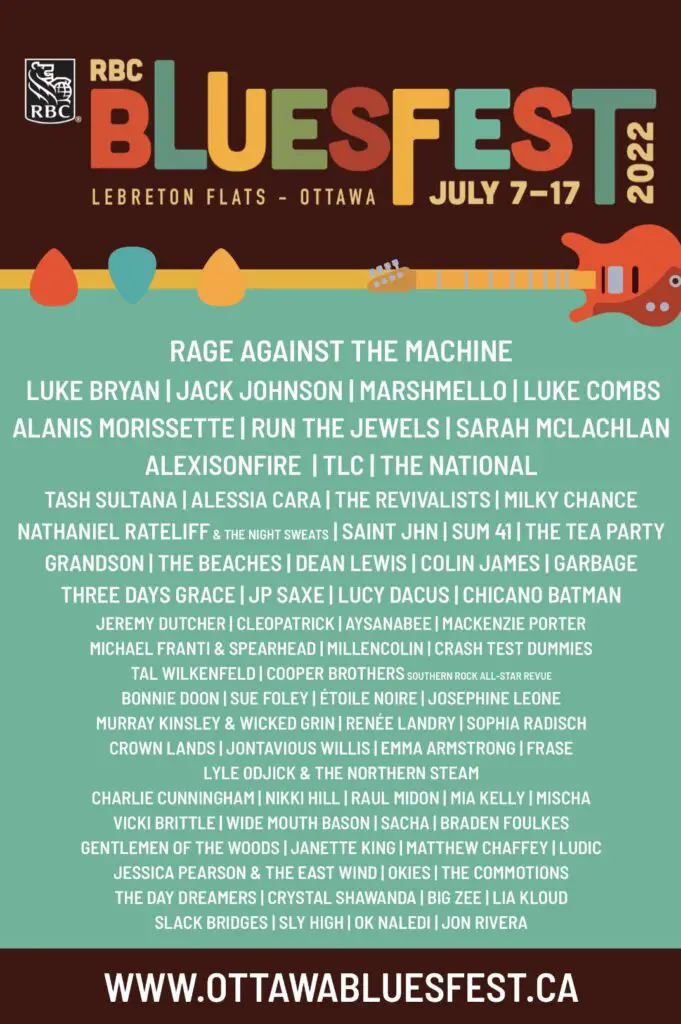 This week we caught up with the executive director of Bluesfest, a very busy Mark Monahan.
AJOMT: Bluesfest has ten days of concerts, on four stages. How many artists will be performing?
Mark Monahan: We have about 150 artists performing.
AJOMT: A few weeks ago a new headliner was announced for Saturday the 16th: Ja Rule. Have there been any other recent changes?
Mark: (Alt-rock artist) Andy Shauf was added onto the last day, opening for The National.
AJOMT: Are any days sold out? How many are you expecting for Rage Against the Machine on Friday the 15th?
Mark: No days are sold out. We are expecting about 30,000 people at (Rage Against the Machine). That is about the same number as the Red Hot Chili Peppers, Foo Fighters, and Tom Petty shows.
AJOMT: Bluesfest is well known for attracting a large volunteer corps. How many volunteers do you bring in and are you still looking for volunteers?
Mark: We have a corps of about 3,000 volunteers. We generally have about a 70% return rate on our volunteers. The last festival was in 2019, we always have a churn rate of about 30%, some people are students and they move. Most of our volunteer leaders and supervisors are back, around 90%; those are the backbone of the volunteer corps. And we anticipate having a larger number of first-year volunteers. We are about 85% full in most areas, still looking for people, especially in the beer tents.
AJOMT: The festival has a real depth of talent, with a lot of diversity, especially independent and local artists. Is that by intent?
Mark: Bluesfest is a not-for-profit and our mandate is to promote local music, it's to promote community efforts, so we do a lot of music education like Blues In The School. So we are heavily committed to employing local artists and giving them an opportunity. There are 40-50 local artists, so 30% of the lineup is local.
AJOMT: It must be difficult to balance everybody's musical tastes.
Mark: We don't think of it like that, you can't please everybody. We set out to program meaningful artists and end up with a lineup that is pleasing to many.
AJOMT: Bluesfest must bring intangible benefits to Ottawa/Ontario. What are some notable highlights?
Mark: The economic impact of the event, from a tourist's standpoint, is over $100 million. It is a huge economic generator for the region: hotels, local businesses. It makes a huge impact on the community.
Full festival passes (and single/multiple day tickets) are still available and can be found on the Ottawa Bluesfest website.