I'm All for Tragically Hip Tributes, But…
Every since we heard about Gord Downie's illness back in May, the tributes to him and the Tragically Hip have come nonstop with almost all of them being tremendously thoughtful and moving. Almost all of them.
Now I'm sure that PEI's Chris Gilfoy has nothing but the best of intentions with his latest artistic creation, but I mean…you know…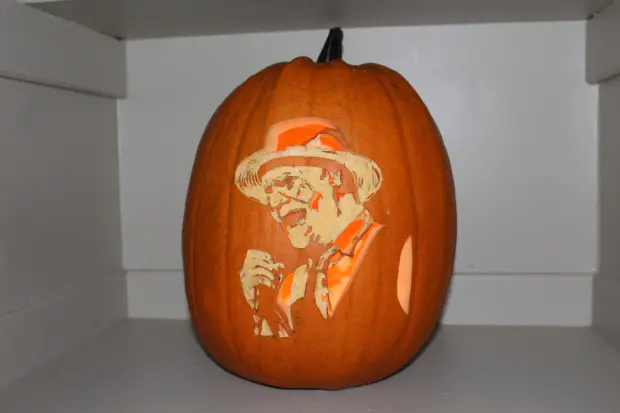 Yes, that's an image of Gord carved into a pumpkin. A Gord gourd, if you will.
Here's another look.
First pumpkin of the year. "Gourd" Downie. #thetragicallyhip #InGordWeTrust #ManMachinePoemTour @thehipdotcom pic.twitter.com/NRhrwzRO4p

— chris gilfoy (@chrisgilfoy) September 11, 2016
It's a bit strange–but if you to ask him if I'd like one of these on my front stoop this Halloween, I'd say "Hell, yeah!"
The full story can be found at the CBC.
Meanwhile, check out Kurt and his wife from London, Ontario. They're pretty good at creating their own Hip swag. I like the Fully Completely pants.