Is This Why Some People Pronounce David Bowie's Last Name Wrong?
For the record, it's David BOW-ie with "bow" pronounced like the thing on top of a wrapped gift. It's NOT BOO-ie or Bow (as in a dog's bark)-ie.
But why do many people get it wrong? It could be the result of some linguistic strangeness.
The former David Jones was forced to adopt his new name in the middle 60s when Davey Jones, the cute little one in The Monkees, became famous first. Our Mr. Jones chose "Bowie" based on a particular type of frontiersman-inspired knife from the United States.
The knife is associated with a Texan named Jim Bowie (pronounced BOO-ie). Therefore, it's actually a BOO-ie knife. Ergo, some people are inclined to call the former Mr. Jones "David BOO-ie."
Take a look at this map from Business Insider. It details the various American pronounciations of B-O-W-I-E. Interesting, no?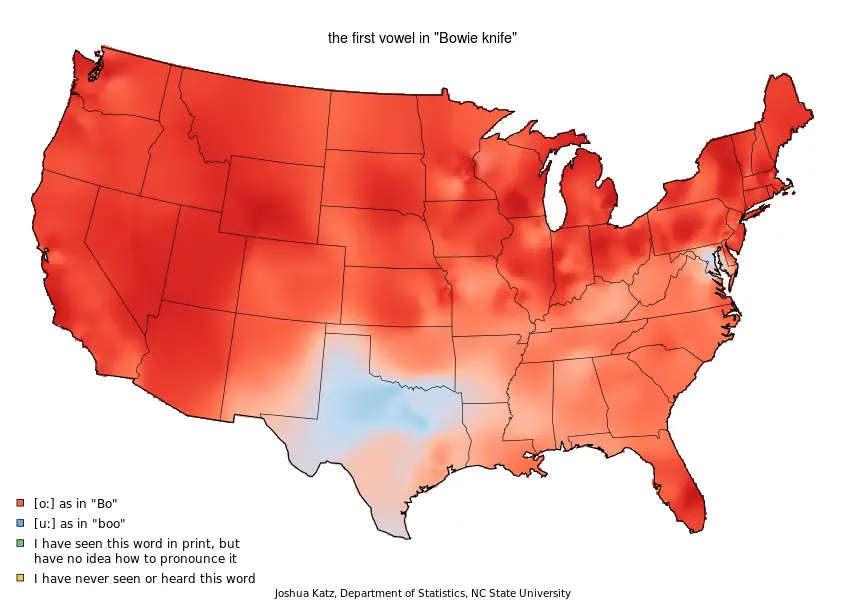 Click on the image for a better look.