Last post from Ottawa Bluesfest 2022 (I swear!) with Aysanabee, The National, and The Beaches)
[A final post from Ottawa Bluesfest from Ross MacDonald (text) and Karen Coughtrey (words). -AC]
The last day of the 2022 edition of Ottawa Bluesfest got off to a moving start with one of the most powerful performances of the entire festival. Aysanabee , which is his family name and means people, is an Oji-Cree musician and the first artist signed to the Indigenous record label, Ishkōdė.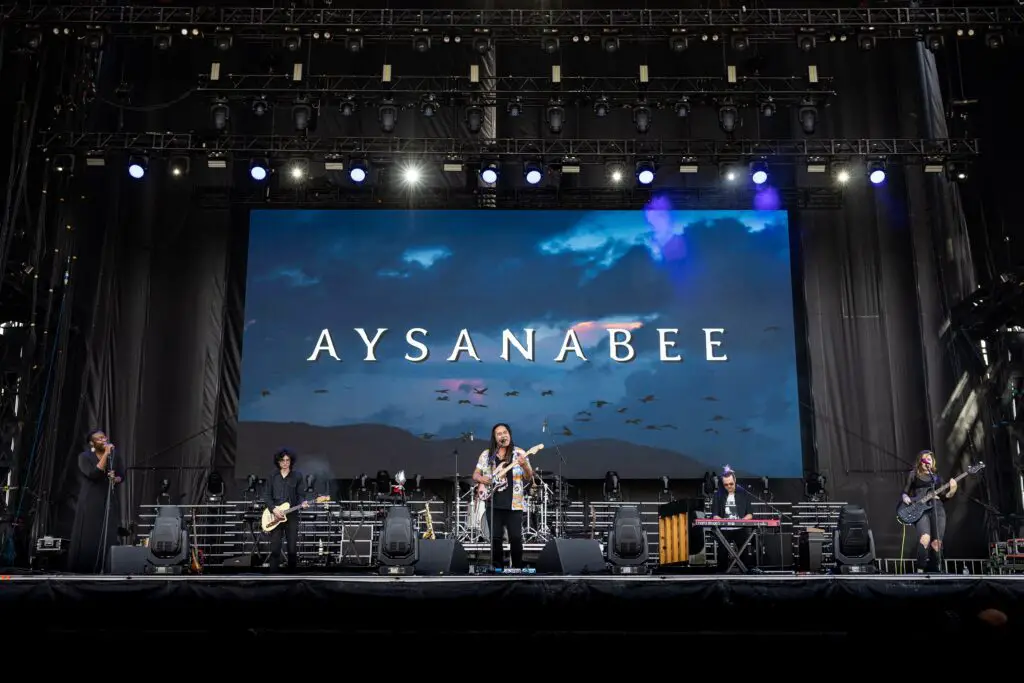 He has an artistry and talent that is undeniable. His voice cuts right to your heart and soul. It, along with the music from his guitar and band, reverberated across the festival site and you couldn't help but stop and take notice no matter where you were. Clad in all black and a Hawaiian-style shirt, he entertained the growing crowd with his songs, in front of a backdrop of beautiful natural scenery like forests and lakes bringing calm to his emotional performance.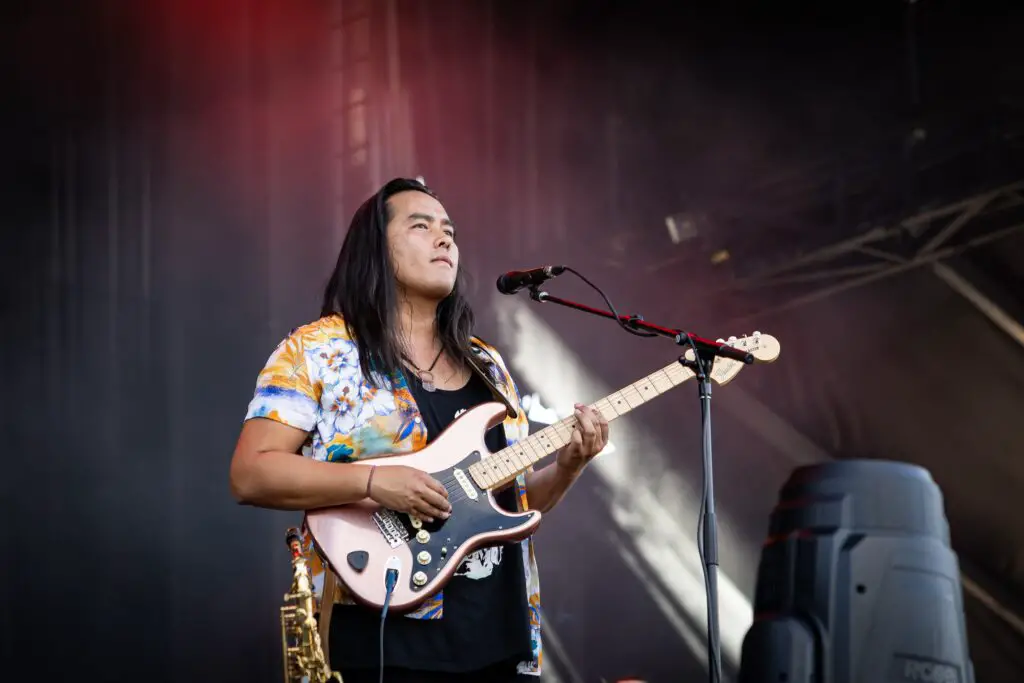 Among many others, he sang his songs 'River', 'We Were Here', and one of a few songs on Spotify 'Howling', which he hopes to change soon. Interspersed between songs were heart-wrenching audio clips featuring the voice of an elder speaking gently about the experience of attending residential school. Aysanabee would also talk about the legacy of the residential school system, pointing out the fallacy of any promises of good to be done by the system. He shared the following with the audience: "My grandfather went to residential school only 'til grade 4 and then he had to leave because he couldn't subtract. The whole purpose of those schools was supposed to be so they could get an education in order to participate in society but they took him out and put him to work building roads and on farms."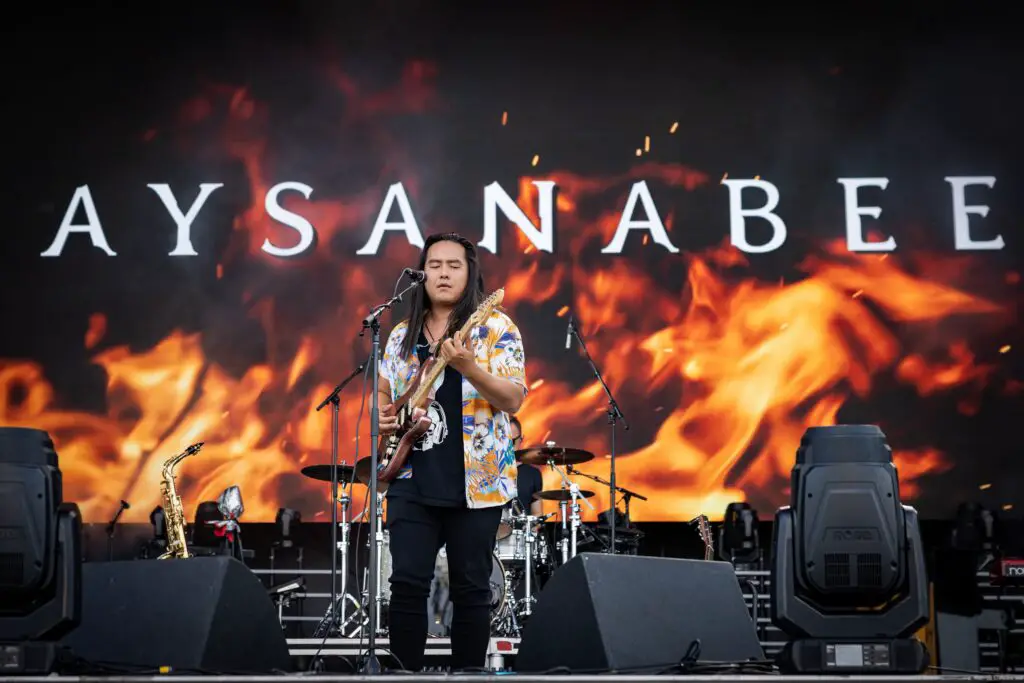 Aysanabee also had a piece of advice for the crowd. He said his closest feeling to regret is in not sharing the conversations and stories that have come out through his music with his family and friends sooner. "Make sure you talk to each other," he said. It was a truly moving performance no one in attendance will soon forget.
Headlining the main stage for this last night of Bluesfest was The National. For the hour before they took the stage the screen displayed a psychedelic image, a kaleidoscopic-like test pattern of sorts: a diamond with circles and circles within circles, in black, white, blue, and purple, it looked like it should be an album cover. There were loud cheers as the band took the stage and Matt Berninger's deep gravelly voice commanded attention immediately as they opened with their song 'Don't Swallow the Cap'.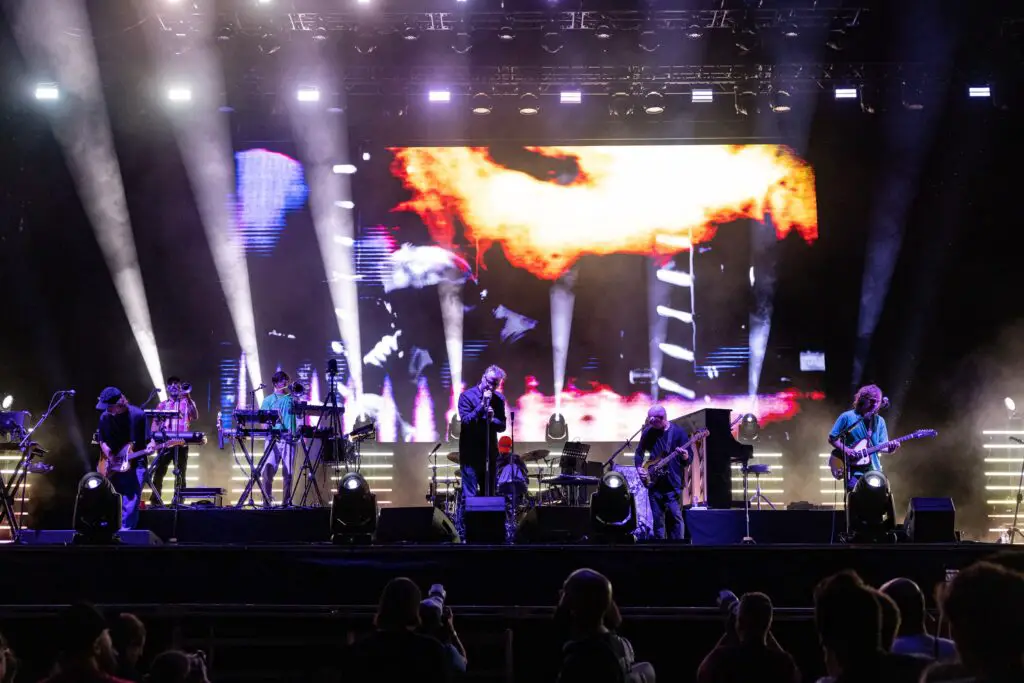 The band clearly has appreciation for the photographic and cinematic arts as the performance included many artsy, grainy, monochromatic slideshows and videos sometimes also including poetic verses. The bottom perimeter of the stage was made up of ladder-like panels of horizontal bar lights providing an interesting, unique, and modern lighting look to the performance.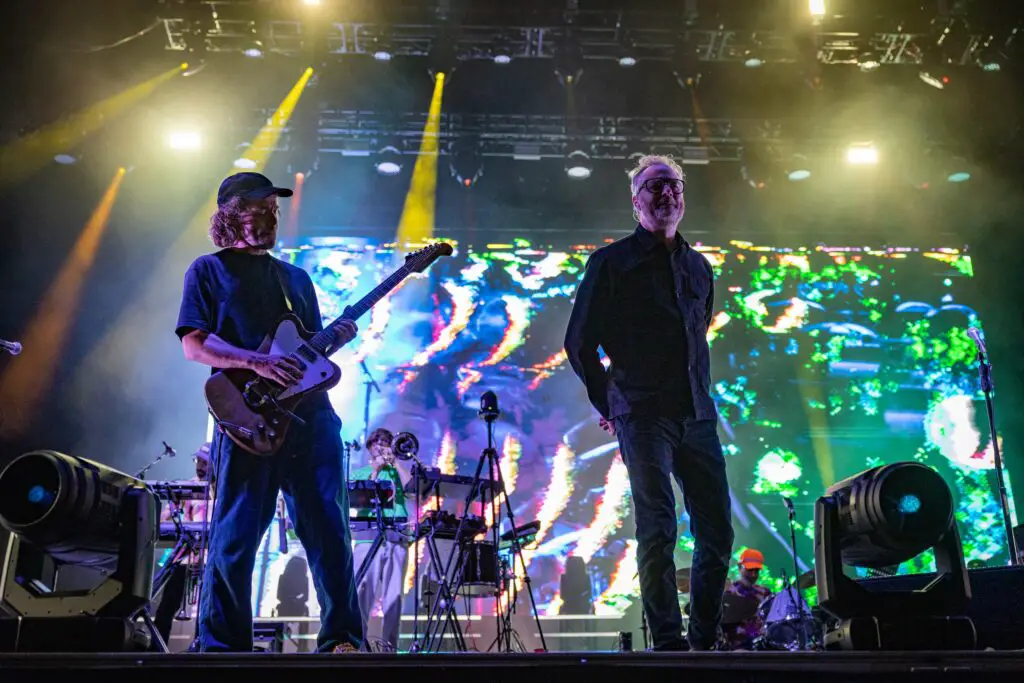 The band demonstrated their range, at times rocking and others slowing it down to a beautiful and melodic tempo, sometimes within the same song and the audience responded positively to it all, swaying or dancing as appropriate. The band spoke little between songs but did express awe at their age when playing 'Slow Show', a song they explained is now 15 years old. They didn't need to use words to show they were grateful for the crowd who had come out on a hot Sunday night to see them and Matt even moved down into the photo pit so he could walk through the middle of the audience.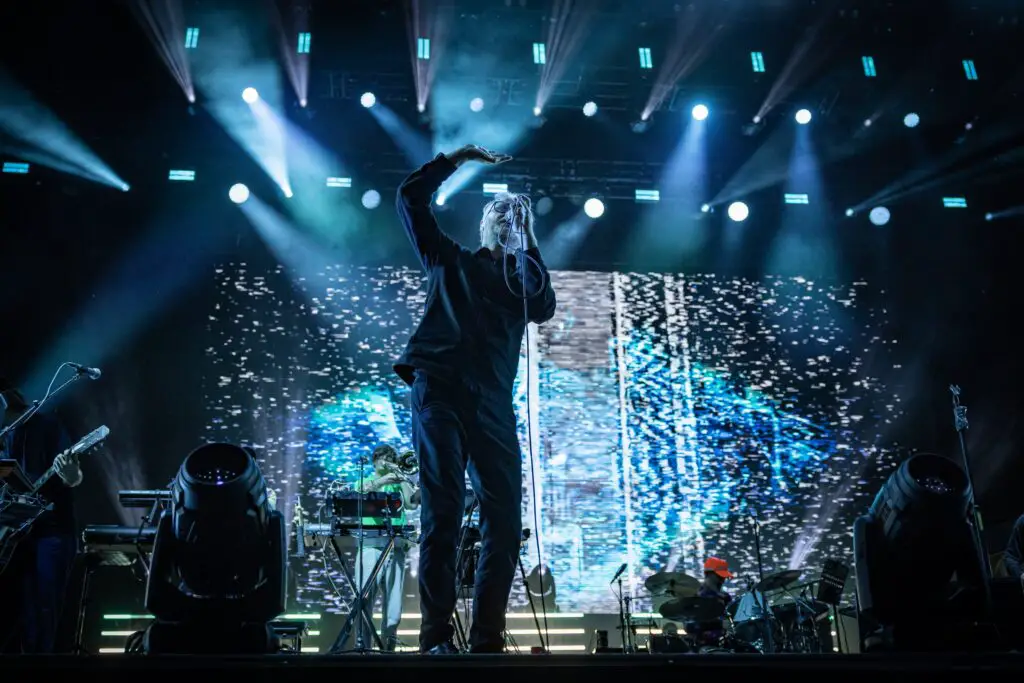 They entertained the crowd with among others,  'Bloodbuzz Ohio', 'Need My Girl', 'Tropic Morning News', 'Mr November' and finished on 'Terrible love' and 'About Today'. The National played right until the 11 pm limit and the audience was clearly grateful, clapping to the beat until nearly the very last note.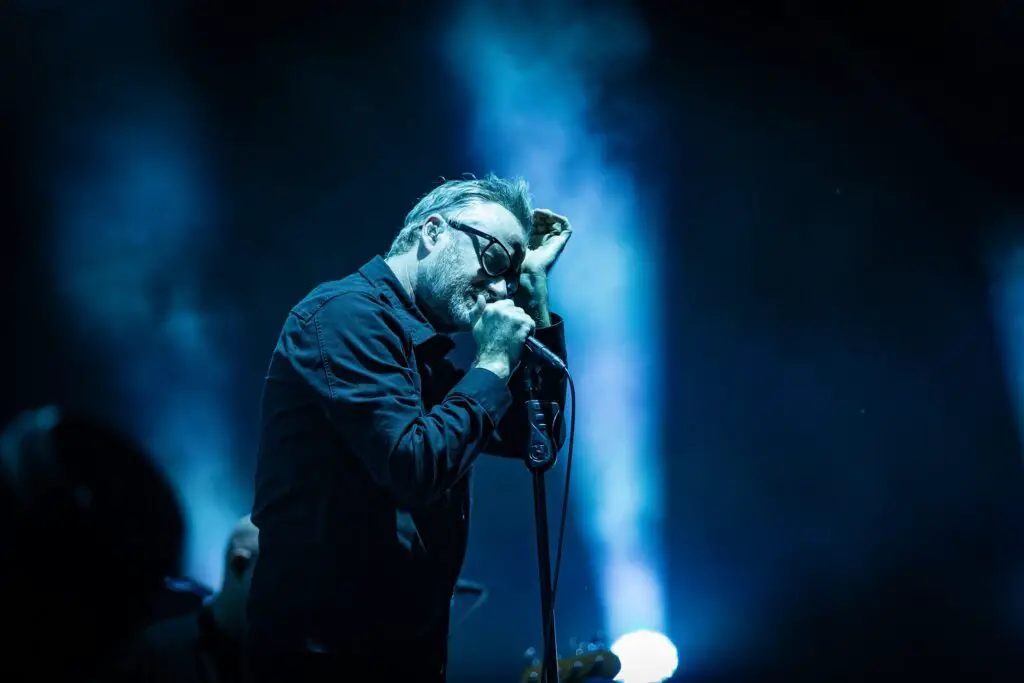 Meanwhile, on the other side of the festival site, The Beaches were giving a lesson on the River Stage, the subject of which was Girls Can Rock. Not that anyone didn't know that already, but they put on a really rocking, and totally fun show. 
They attracted a sizable crowd and had them dancing, clapping, and participating on songs such as 'Want What You Got' and 'Desdemona'. The stage setup was simple with a screen that would occasionally flash the bands logo and the scene was otherwise set by bright coloured spotlights often cycling through the colours of the rainbow giving a cool disco or prismatic vibe.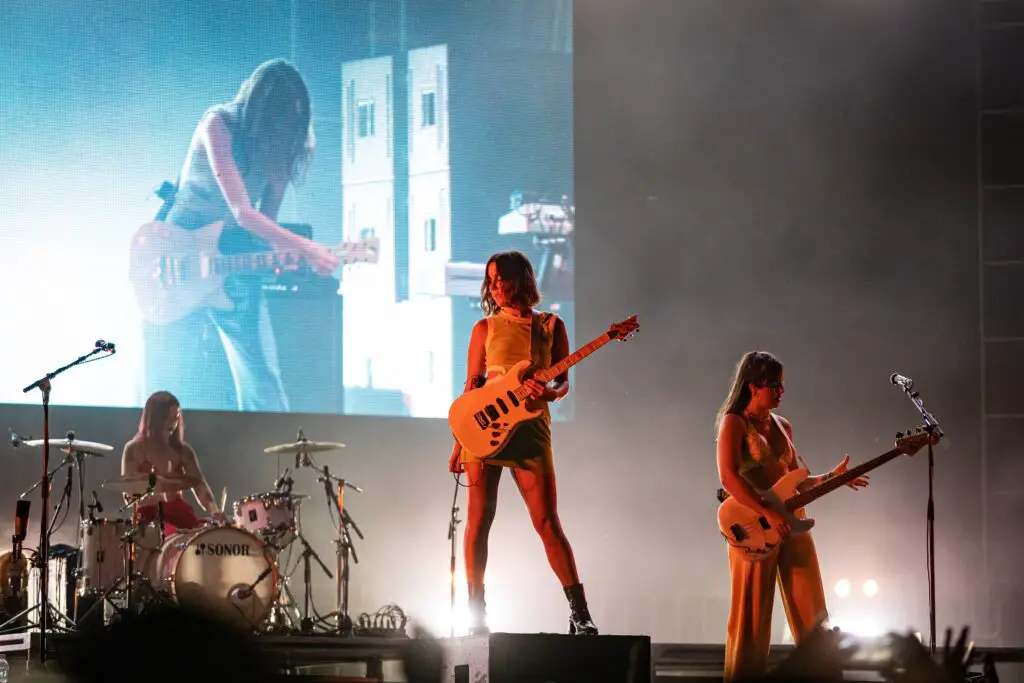 The band as a whole demonstrated their musical skills with long instrumental interludes or dance breaks and lead singer Jordan Miller has a strong command of the stage sliding around, throwing in the occasional gentle spin or full on pirouette and at points demonstrating her agility with 80's aerobics-like dance moves. The crowd was clearly having a fun time and showed pure delight when told they would get to hear new songs 'My People' and 'Fascination'.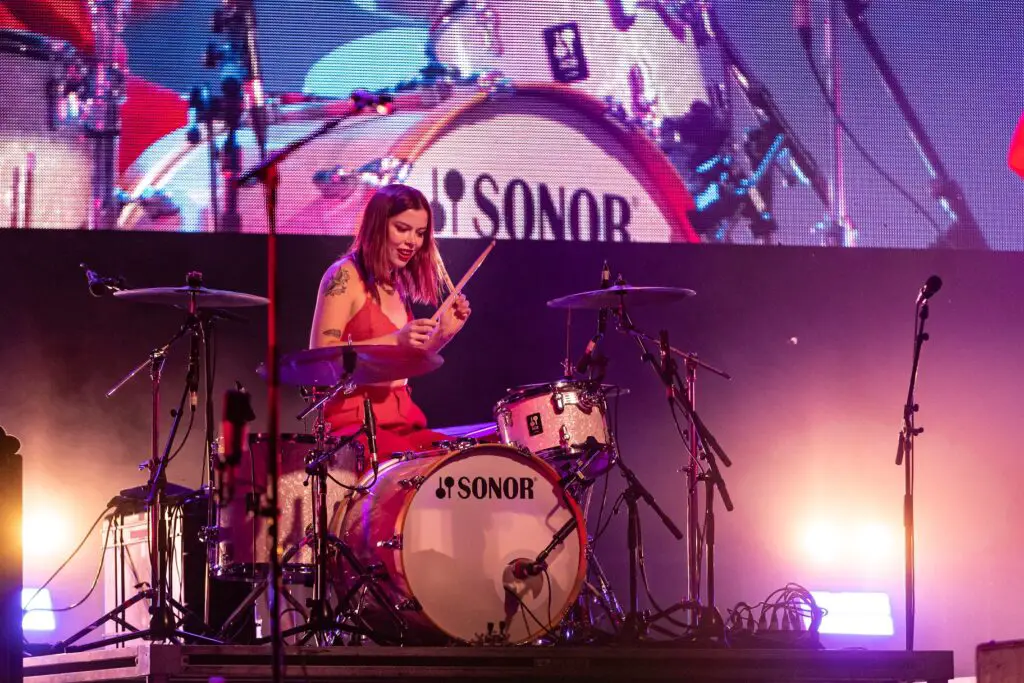 The band was honoured to be playing a headlining time slot, having played Bluesfest once before (also on a hot sticky day), and have been playing in Ottawa's small venues since 2013. They declared they feel very loved here and they love their Ottawa audiences too. However, humorously, they would also remark "No one ever tells you when you headline how many bugs you will eat. It's really gross. Since it's a new source of protein, I guess we'll be jacked by the end of the summer."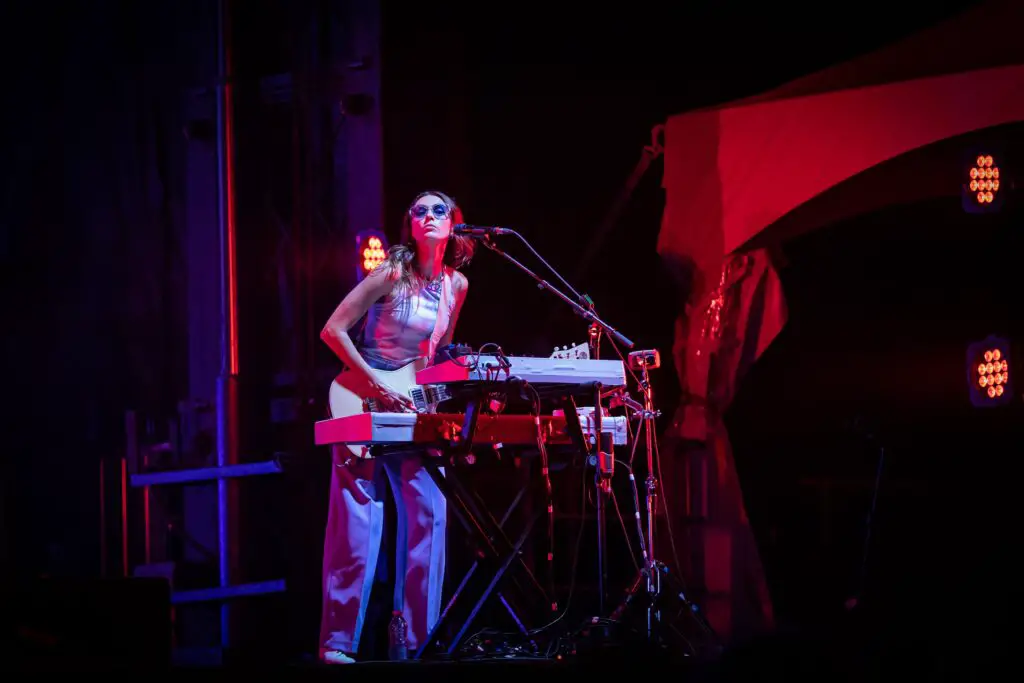 They dedicated their song 'Blow Up' to all those hungover or calling in sick to work the next day as they anticipated their ride back to Toronto was going to be a bumpy ride too. They played a fantastic cover of Nelly Furtado's song 'Maneater' that had everyone singing along and at the end of the night finished with their single, 'Money' from their debut album, Late Show. The perfect fun end to a nearly perfect fun festival.