Meet Orfium: A Streaming Platform and Royalty Tracker in One
Shouldn't music fans be able to listen to their favourite artists on a single platform, without having to toggle between players and playlists to find the perfect song to fit their mood?
That's one of the driving philosophies behind Orfium, a new streaming service launched in July after seven months of beta testing. Already Orfium has some 125,000 to 130,000 songs uploaded by 40,000 artists, and co-founders Chris Mohoney and Drew Delis have their sights clearly and tightly focused on taking over the online music world.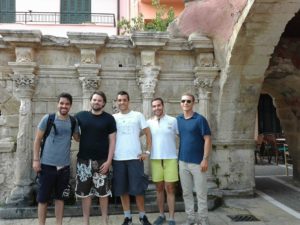 With backgrounds covering music licensing, rights management, music industry law and accounting, Mohoney and Delis have created a platform that might look a little like a cross between Spotify and Netflix but provides more services to musicians than meets the eye. (Mohoney previously worked as a music administrator for YouTube, representing roughly 6 million copyrights for major record labels; Delis went to Pepperdine University for law school and specialized in music rights.)
Probably the most interesting feature for musicians, who upload their work and receive 80% of whatever price they choose to put on their songs: no exclusivity contract or pledge is required and all copyright information is retained, allowing all royalties to be firmly locked with the artist.
"That's the biggest problem with SoundCloud," Delis says. "They didn't have that ability. People were uploading remixes with uncleared samples. There was no way of allowing the proper rights holder to monetize (their work). Because of that, the rights holders were requesting takedowns and the uploaders were losing their work."
If an unauthorized remix or mashup is posted to Orfium, there's a system in place to identify each "asset" included therein, with royalties paid out to all involved original rights holders who then have the option to share earnings with the remixing artist, Mohoney says. In the future, they anticipate the ability to divvy the royalties based on the proportion of a song in a remix, but at this point the original artists each receive an equal portion of a song's payment, should the musicians decide to require a purchase.
That's the other thing—if an artist wants to post a song for free, there's no charge to anyone. Nor does Orfium charge a subscription for users—musicians or listeners—something Mohoney says he thought was counterproductive of platforms like Spotify, SoundCloud or iTunes.
"We provide unlimited free hosting," he explains. "The way we kind of look at it is they're providing content, which is a thing of value that brings listeners to the site. SoundCloud charges a subscription that artists have to pay in order to be able to upload their music. It's kind of backwards. Listeners wouldn't even be there if they didn't upload their music. [Artists] should get rewarded for it."
What Orfium isn't is a blockchain-based service, unlike other platforms profiled in this space in previous months.
Mohoney says he's familiar with blockchain platforms and says while it's a "really cool technology," at this point, the technology has some outstanding issues of resource use and security to be sorted out before "it's something that can be broadly adopted. I think it has many applications, not just in music."
Delis and Mohoney, who met in college at the University of San Diego and stayed in touch after graduation, see themselves as problem solvers, "actively looking at better and better solutions," Mohoney says. "We're trying to figure out what is the best we can offer and how can we do it and make [music] available." The seven months of beta testing is proof of that, as Mohoney and Delis personally work with their website developers to address problems submitted to their support desk. Feedback from the earliest users resulted in an improved user interface and user experience, Delis says, resulting in the ability to sort music by genre, artist, album, etc. When clicking through a genre, song or album titles flip over, from left to right, like dominoes. It's an eye-catching and appealing feature.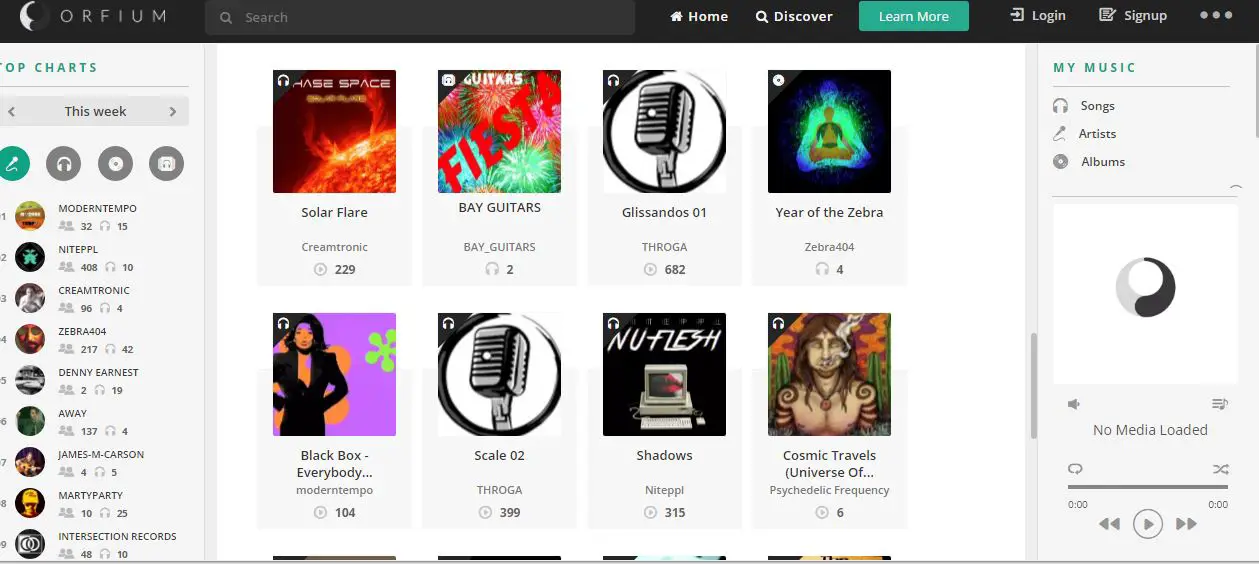 Orfium allows record labels to upload information and hold accounts on the site in addition to individual artists, with all artist information monitored and recorded in the upload form that's filled out before any content is posted. Whether posted by an artist or label, a statement is generated for each uploader to view how their song is doing and what kind of traffic it's generating and keep an eye on any owed royalties. The appropriate and required metadata is collected, filed and stored right from the beginning.
There's only a handful of countries not represented by the artists and users, with the predominant traffic coming from the US, UK and Germany, and most genres are represented as well, with EDM and rock currently the prevalent musical stylings found on the site.
"We're trying to really build a complete library," Mohoney says. "It's just about getting everybody involved. Every time more and more artists come over, it adds more value to the fans and makes [Orfium] a more viable Solution. We have to make sure, if a fan hears a song on the radio, a fan should be able to come here and look up that artist. It's designed to be uniform across the board but we're seeing a lot of electronic music on board. We welcome everybody."
Both Mohoney and Delis acknowledge it'll take some time for Orfium to take off and really give other, currently popular streaming services a run for their money (and users). They're not concerned.
"We're looking to provide a long-term solution," Delis says. "We want to make sure we have the foundation of Orfium solid. There are advantages to artists to come work with us now. There's an immediate upside."