Metallica's WorldWired Tour Sells Out Rogers Centre in Minutes–Anyone Surprised?
At 10 a.m. local time on Friday, Metallica's WorldWired Tour went on sale across North America. Hot on the heels of a new album that has the band returning to their biting, crunchy sound with fast guitars and thundering drums, not to mention the technically challenged but still well-received performance at The Grammys, fans were itching for the chance to see the metal gods again.
It showed. Within 20 minutes, standard-issue tickets—that is, tickets not part of one of four special packages at elevated prices, ranging from $329 per ticket to $3,299 per ticket—were sold out at Toronto's Rogers Centre. By Friday night, even the luxury packages were sold out through Ticketmaster's primary sale.
The secondary sale offered by Ticketmaster was thriving: Seats in the 500 Level of the arena, face value of $55.50 to $81.00, were available starting at $95.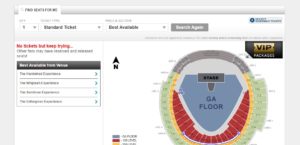 This probably won't come as any surprise to anyone, right?
Tickets were still available at BC Place, in Vancouver (general admission on the floor, $81); Commonwealth Stadium in Edmonton ($81, section K2, lower bowl); and Parc Jean-Drapeau – Ile Notre-Dame in Montreal ($259, Metallica Platform), which has outdoor seating.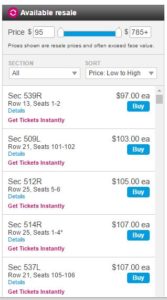 In the States, by the time Toronto's show had sold out, there were still plenty of seats available in all price ranges in Philadelphia, Baltimore and NYC/NJ. Could this be an indication that the federal anti-ticket bot legislation, passed by both houses of Congress and signed into law by President Obama in December, is actually effective?  It's likely hard to say: The stadiums where Metallica is playing are larger, mostly open-top stadiums for football or baseball teams, meaning they automatically have more seats than enclosed arenas.
So is there something special about Toronto? Did any fans get seats directly? Is it worth paying nearly twice the face value for tickets on the secondary market?  We want to hear your feedback.