Millennials: How They Consume TV, Ads, and the Perception of Celebrity
As the resident Millennial here, I love reporting on information that pertains to my generation. At the beginning of this month, Nielsen released their inaugural Millennials on Millennials report. Those of us in the generation — born between approximately 1980 and 1996 — grew up alongside major technology and media advancements.
Nielsen explains the uniqueness of this report:
"It offers critical insight into the evolving media habits of this highly digital demographic, and it was produced by a team of Nielsen Millennial associates keen to help clients engage and reach a generation that every modern marketer is seeking a connection with".
Not always the easiest generation to market to, Nielsen's report aims to help marketers and advertisers look for the best opportunities to reach this demographic.
The report uncovered three things that you might not have knows about millennials.
Millennials love TV-connected devices.
For this generation, TV still makes up the majority of video consumption, but other screens have more value. Devices like DVD players, game consoles, and digital streaming devices compose four times the percentage of Millennials total video minutes than Gen X-ers and Boomers.
Nielsen notes:
"TV-connected devices account for 23% of Millennials' total time with video, compared with just 6% for consumers 35 and older. And as a result, Millennials spend about 27% less time watching traditional TV (89% among 35+ vs. 66% among Millennials)".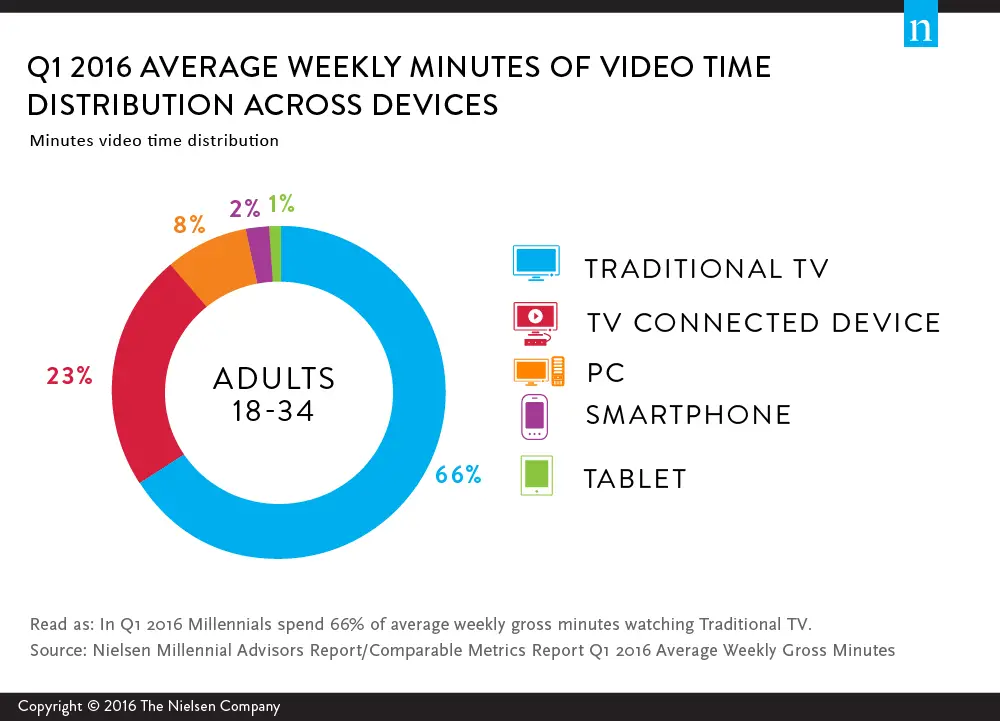 Millennials are a distracted audience.
We like to multitask. A study conducted in fall 2015 showed that millennials were least likely to change the channel during commercials breaks when watching primetime premiers.
"Less than 2% of 18-34 year olds changed the channel during commercials, compared with 5.5% of 35-54 year olds and more than 8% of viewers 55 and older".
However, because of our multitasking ways, we have a much lower program engagement and ad memorability scores.
Some content providers disable ad-skipping features in VOD content, knowing that audiences might opt to skip over ads if they can. However, as long as content is free, millennials don't mind watching advertisements. Utilizing this information gives marketers the opportunity to present their media to young viewers.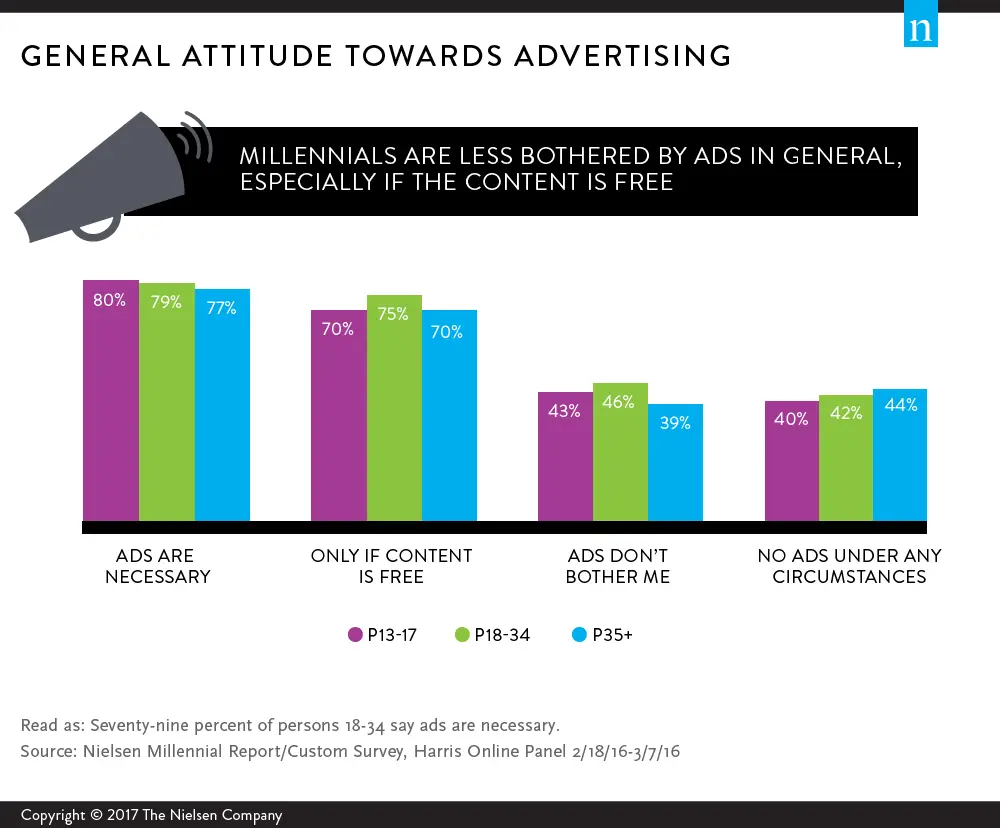 Social Media stars are celebrities.
No longer are celebrities limited to movies and music; people who achieve high popularity on social media sites such as YouTube, Instagram, or Twitter now claim that title, too.
"In a write-in section of our custom survey, numerous respondents named several social media stars multiple times when asked: "Please list your current top five favorite celebrities." When tested against mainstream stars, social media stars hold their own in terms of celebrity status".
As a surprising example, male millennials hold trending social media stars in higher opinion than they do athletes, musicians, and actors.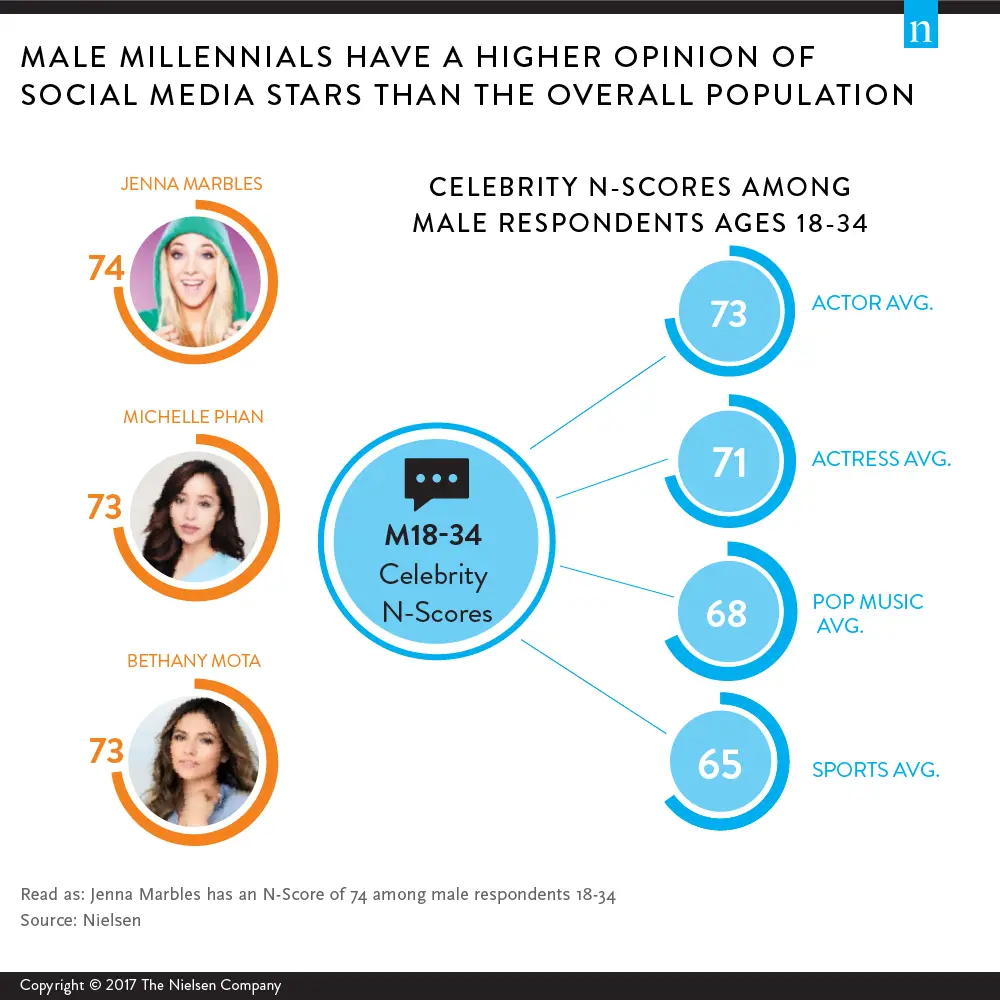 To read more, check out the Nielsen report.